Doctors are urging people to look out for the early signs of Type 1 diabetes in children.
They say 40% of new cases come to light after patients become seriously unwell with a life-threatening complication of the condition called diabetic ketoacidosis - or DKA.
Among those affected was five-year-old Lucas Tuke.
Two years ago, his mother Ciara noticed he was drinking and going to the toilet more often, but was unaware of the signs of Type 1 diabetes.
She had sought medical attention after he complained of a sore throat and mouth. He was treated with antibiotics and was due to get blood tests the following week.
But, within days, things deteriorated.
His mother said he was lethargic and was not eating or drinking. He then started vomiting and she said his breathing seemed laboured.
She said he was awake but seemed spaced out.
"We brought him to Tallaght University Hospital where he ended up in a high dependency unit because he was in full DKA".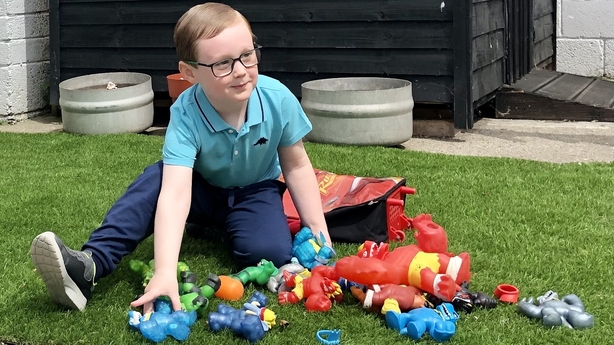 DKA, or diabetic ketoacidosis, is an acute complication of severe uncontrolled diabetes where toxic acids build up in the blood. It can be fatal.
Professor in Paediatrics at Trinity College Dublin and Paediatric Endocrinologist at Children's Health Ireland, Edna Roche, said it is very important to diagnose childhood diabetes early.
She said that often people do not realise that children get diabetes too and the challenge is that the symptoms can quite often be easily explained away.
Doctors are asking people to look out for the signs of diabetes and if they think they are showing any of the symptoms their GP can do a simple finger prick test.
People are urged to think of the acronym TEST: Increased Thirst, low Energy, Sudden weight change, and increased Toilet trips.
Prof Roche said about 40% of children with diabetes are presenting with DKA at diagnosis and that number has been increasing.
She said that this is largely preventable.
About 2,500 children and young people under the age of 15 have Type 1 diabetes in this country. About 290 new cases are diagnosed every year.
Ireland is in the top 25% worldwide for Type 1 diabetes in children.