HSE Chief Clinical Officer Dr Colm Henry has said it will take "a number of days" before the HSE's computer systems are back up and running.
The Health Service Executive became aware of a "significant" ransomware attack on some of its systems overnight, and was forced to shut down all of its IT systems.
The ransomware attack was focused on accessing data stored on central servers.
The health body said it had taken the precaution of shutting down its systems to further protect them, and to allow it to assess the situation.
Speaking on RTÉ's Drivetime, Dr Henry said the most recent advice that the HSE has received is that it will be a number of days before the IT systems can safely begin to reopen.
"The most recent information we have is that it will take a number of days. This is an unprecedented situation in terms of its seriousness of its impact, and the scale and scope of the potential harm," he said.
"As such the advice we are getting from the experts working with us is that, given how serious this is, it's going to take a number of days before we can safely begin to reopen those IT systems on which are our healthcare services rely."
Dr Henry described the attack as "unprecedented" and that "all national and local services have been affected".
dddd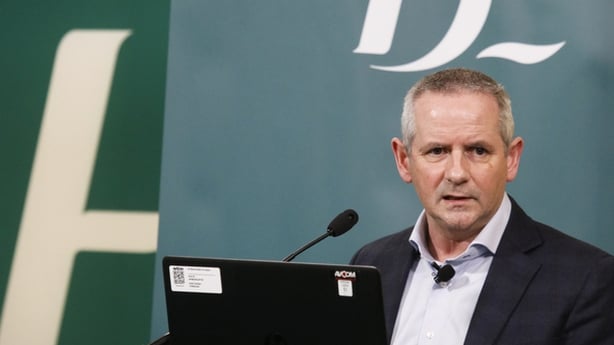 The Covid-19 vaccination programme has not been affected by the cyber attack and is going ahead as planned.
Many hospitals have described situations of being compromised without access to their electronic systems and records, and having to rely on contingency measures such as paper-based systems.
In some cases, hospitals warned of significant disruption with routine appointments cancelled today, including maternity check-ups and scans.
With delays expected to some patient services, health providers are also warning this IT outage could pose difficulties in accessing patient results.
The HSE has said it is working to resolve this serious issue with the support of cyber security experts and gardaí.
The issue led to Dublin's Rotunda Hospital cancelling most outpatients visits today.
The maternity hospital said all outpatient visits are cancelled - unless expectant mothers are 36 weeks' pregnant or later. All gynaecology clinics were also cancelled today.
However, the hospital said those with any urgent concerns should attend as normal.
The National Maternity Hospital at Holles Street in Dublin has also said there will be "significant disruption" to its services today.
Due to a major IT issue, there will be significant disruption to all our services today.

If you have an appointment/need to come to the hospital, please come as normal. We ask that you please bear with us

We apologise for any inconvenience caused. Further updates will follow

— The National Maternity Hospital (@_TheNMH) May 14, 2021
This morning, St Vincent's University Hospital in Dublin said that, while the situation was an evolving one, no patient appointments have been cancelled at this time.
Crumlin Hospital, Children's Health Ireland (CHI), said its IT systems are compromised but it is working to adjust using risk assessment and manual paper-based processes.
Elective operations and face-to-face outpatient clinics did take place this morning but the hospital advised people to expect delays.
Cork University Hospital said there were limits on the capability of the services it could provide today. Radiotherapy appointments are cancelled, patients with X-ray appointments should not attend unless contacted.
It said labs are severely affected and only emergency bloods will be processed at this time.
The hospital said it may not have access to the full suite of records.
It advised people who have an OPD appointment, chemotherapy appointment, or surgery appointment to go to the hospital unless contacted to cancel.
The HSE has apologised to patients and the public and said it would give further information as it becomes available.
Áine Lawlor reads the statement from the Health Service Executive after it had to temporarily shut down its IT system following what it described as a "significant ransomware attack" | Read more: https://t.co/Hargf2sawg pic.twitter.com/3G81iBwWBN

— RTÉ News (@rtenews) May 14, 2021
HSE Chief Executive Paul Reid this morning said it was working to contain what he called a very sophisticated human-operated ransomware attack on its IT systems.
Speaking on RTÉ's Morning Ireland, he said that the cyber attack was impacting all national and local systems involved in all core services.
Mr Reid said it is a very significant and serious cyber attack.
HSE Chief Executive Paul Reid explains "significant and serious" ransomware attack on the HSE systems I Read more: https://t.co/Hargf2sawg pic.twitter.com/XLtanLPJz8

— RTÉ News (@rtenews) May 14, 2021
The HSE is working with the national security cyber team, gardaí and third-party cyber support teams.
The attack is focused on accessing data stored on central servers, Mr Reid explained.
Speaking this morning, he said it is a major incident but added that no ransom demand has been made at this stage.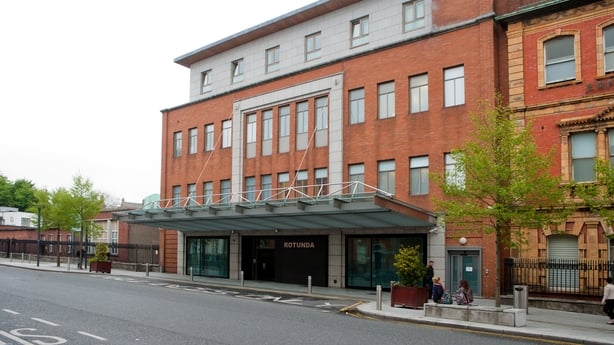 Also speaking on Morning Ireland, Master of the Rotunda Hospital Professor Fergal Malone said they discovered during the night they were victims of the ransomware attack, which is affecting all of the hospital's electronic systems and records.
"We use a common system throughout the HSE in terms of registering patients and it seems that must have been the entry point or source. It means we have had to shut down all our computer systems."
He said all patients are safe and the hospital had contingency plans in place so it can function normally using a paper-based system.
However, this would slow down the processing of patients, which is why they are looking to limit the numbers attending appointments today.
Prof Malone said lifesaving equipment is all operating fine and it is just the computers with healthcare records that have been impacted.
Professor Fergal Malone, Master of the Rotunda Hospital reassures "all patients in the hospital are safe and all care is being provided, there is no problem with patient safety" after the ransomware attack | Read more: https://t.co/Hargf2sawg pic.twitter.com/NFlOnnA84I

— RTÉ News (@rtenews) May 14, 2021
"We have systems in place to revert back to old fashioned based record keeping," he said.
"Patients will come in, in labour over the weekend and we will be well able to look after them."
Prof Malone could not predict how long it will take to rectify the issue but said they will take it day-by-day.
He said a team is looking to resolve the issue.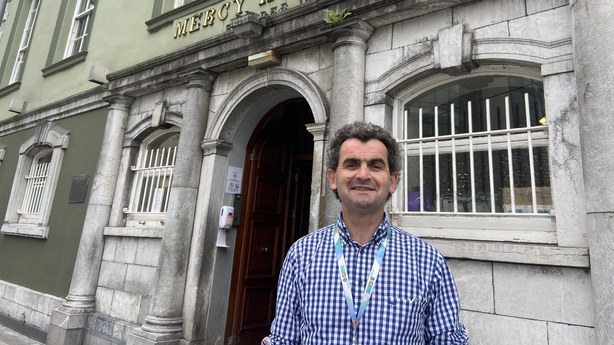 Professor Seamus O'Reilly, oncologist at Cork University Hospital, said all of the hospital's computers have been switched off because of the cyber attack.
He said the HSE acted quickly and its main concern is patient safety. He said it is distressing for patients who are awaiting results and "living in that zone of uncertainty".
"There is a lot of distress in our clinics and wards today because of this."
He said cancer care is very time dependent on technology and the hospital is anxious to go ahead with treatment. Prof O'Reilly said this cyber attack raises issues of firewalls and back-up systems, which are so important.
The systems are already pressured dealing with Covid-19 and this has added to that, he commented.
Dr Conor O'Shea, National coordinator at the Irish College of General Practitioners, has said that they have been trying to work through the implications for GPs since the attack became apparent.
He said that some services have been affected but the impact on GP services today isn't as significant.
The ICGP says Healthmail is fully functioning so scripts between GPs and Pharmacies can be sent as normal.
But they say that Healthlink is unavailable. This means no referrals are available or lab reports etc.
Dr O'Shea said that while bloods can still be taken and samples sent to laboratories they haven't been able to download results from laboratories today or any correspondence that they would receive electronically.
He said that they also haven't been able to refer patients to consultants. But he said that most urgent referrals can still be delivered using paper if necessary so he said that it would only be electronic referrals for non-acute problems that would be affected.
He said that vaccination returns can be sent once the system is back up and running.
He said that while they can't refer people for Covid-19 testing via electronic requests, test centres have been on to GPs either to organise a walk-in setting or alternatively to use the telephone to book appointments for testing.
He said that they can still send emails for prescriptions to local pharmacies so that has not been a problem.