President Michael D Higgins has paid tribute to nurses in Ireland and around the world on International Nurses Day, praising their "irreplaceable contribution" to health and wellbeing.
The annual celebration takes place on the birthday of Florence Nightingale, and the theme this year is Nurses: A Voice to Lead - A Vision for Future Healthcare.
The tens of thousands of nurses who work in different disciplines and in different locations throughout the country have faced unprecedented challenges in the past year.
"On this International Nurses' Day, as we continue to tackle the consequences of the COVID-19 crisis, let us all honour the contribution of the nursing profession."#InternationalNursesDay2021

— President of Ireland (@PresidentIRL) May 12, 2021
Mary Elizabeth Jones is a clinical nurse manager in the Mater Misericordiae University Hospital in Dublin.
As the pandemic took hold, she had to quickly change gears, moving from working on a cardiothoracic ward to one treating patients with Covid-19.
"It felt like pretty much over a couple of days we were converted into a respiratory Covid ward," Ms Jones told RTÉ News.
"I definitely had a lot of sleepless nights, a lot of worry. Worry for the patients we were taking care of and worry for the staff I manage and work with."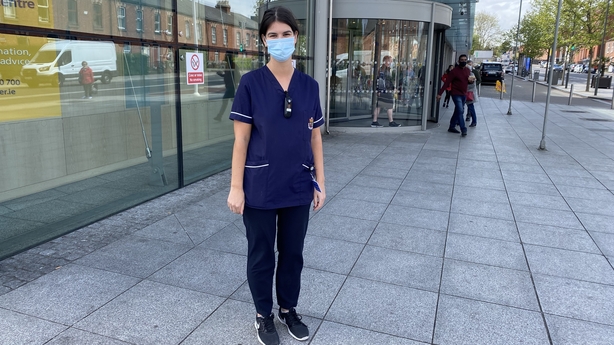 During the height of the pandemic, Ms Jones moved out of accommodation she shared to avail of the HSE Temporary Accommodation Scheme.
She said this gave her a sense of security at a stressful time.
"I was able to worry about work and not worry about my family and my fiancé, so it definitely took a lot of the pressure off but it was very hard," Ms Jones said.
Over the past year, Ms Jones said the "ups" were the support she got from colleagues and from the public.
However, she said there were also "a lot of downs".
"A lot of staff contracted Covid, so you're worrying about that", she said. "You're worrying about your patients in a situation where you can't spend a lot of time with them, you're in PPE and they don't know who you are and what you look like, and worrying what the next day will bring in terms of case numbers and admissions."
On International Nurses' Day let's celebrate our amazing members! The INMO says a big thank you to all our members for their inspiring commitment to their work and their patients! ?? pic.twitter.com/Zusf5rBv4G

— Irish Nurses & Midwives Organisation (@INMO_IRL) May 12, 2021
Ms Jones said things are beginning to look and feel more positive.
"Covid is still part of our day-to-day work but we are definitely seeing a reduction in cases", she said. "People are a lot better with it and we are hoping that as we see more vaccinations that will continue."
She said staff also feel much better now they have been vaccinated, and she is pleased to see scheduled services resuming in hospitals.
"It's lovely to see cardiothoracics come back, which is our speciality," Ms Jones added.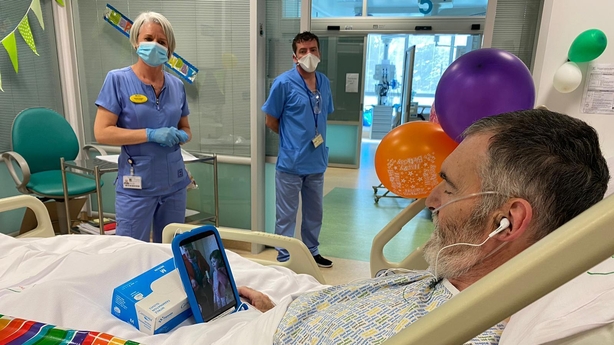 Olivia Reidy, a third-year nursing student, admits that while the last year has been difficult, she "wouldn't have had it any other way".
"This year more than ever our role has been important," Ms Reidy told RTÉ News. "Being in the hospital, being on the front line, that's what we all got into nursing to do."
Over the last few months, General Practice Nurses have been involved in the Covid-19 vaccine rollout in GP practices and medical centres around the country.
Una Butler works in Duncarin Medical Centre in Bray.
She says the vaccine roll out has been hard work and posed a number of challenges, but overall, she described it as a "really positive experience".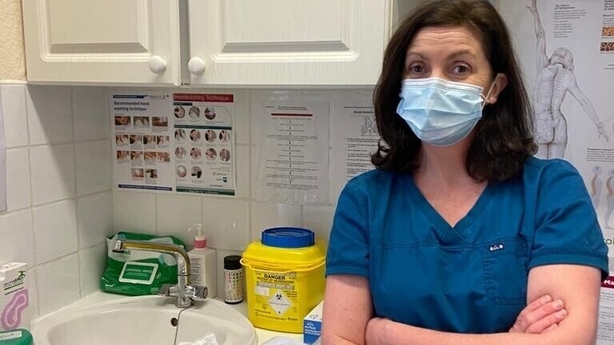 However, Ms Butler said general practice nurses throughout the country have also been working hard to ensure that other essential services continue.
"It's so important to keep our babies vaccinated, [to continue with] all our screening, and of course diabetes hasn't gone away," Ms Butler said.
"So it's really, really important that our patients come and have their tests and have their chats with us."
A thumbs up from us to all Nurses on #InternationalNursesDay; particularly all those working within epilepsy services across Ireland! #ThankYou pic.twitter.com/J2kNXSluIM

— Epilepsy Ireland (@epilepsyireland) May 12, 2021
Bernadette Murphy is the Operational Director of Nursing at University Hospital Limerick.
"It's really important to say that we are very proud of all of our healthcare workers", she told RTÉ News.
"But for today, being International Nurses Day, we want to celebrate our nurses and their commitment, their dedication and their care delivery to our patients at a very worrying time."
We need your consent to load this rte-player contentWe use rte-player to manage extra content that can set cookies on your device and collect data about your activity. Please review their details and accept them to load the content.Manage Preferences