On International Day of the Midwife, the HSE is encouraging people to consider training and working in what it says is a "rewarding" and "joyful" career.
It has been a tough year-and-a-quarter for all sectors of the health service, including those working in maternity at a time when restrictions meant difficulties for mothers, their partners and for staff.
However, the HSE pointed out that midwifery is a diverse and progressive working life, with many options available.
"Our health system needs more midwives and there are many job opportunities available in hospitals and communities across the country," the HSE said.
"While many midwives started their career in nursing and then chose the path of midwifery, students starting off today can specialise from the start and choose to study and train as a midwife."
Staff at South Tipperary General Hospital in Clonmel marked the occasion by holding a fundraising raffle and walk along the Blueway beside the River Suir to raise funds for the facility's Special Care Baby Unit, dressed in Call the Midwife costume from the 1960s-set television drama.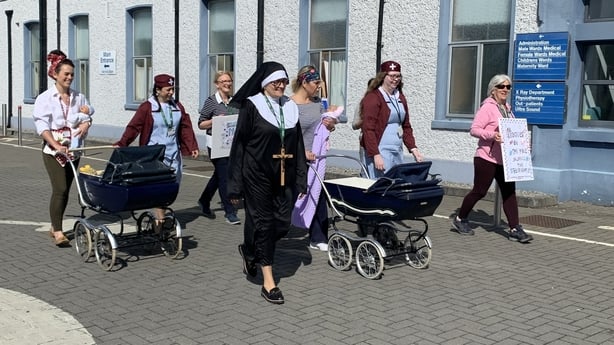 "It's just to recognise midwifery within the healthcare system," director of midwifery Sinead Heaney said.
"The pandemic has emphasised that care to the woman and her partner during labour and their pregnancy, and I suppose that lack of connection has really highlighted the importance of midwifery during that time. We just wanted to bring a little bit of fun back into our lives at the moment."
Ms Heaney said the last year and a quarter have been "extremely tough" for all concerned, with the Covid-19 restrictions hanging over everything.
"It's such an important time in everybody's life and then for ourselves, we've got our own families at home and our own worries and concerns coming into the healthcare environment, but I suppose that's what team-work is all about. The hospital has been really really good and there's been lots of support across the services."
Dr Dora Butnaru, a registrar in obstetrics and gynecology at STGH, said today was about midwives and recognising their contribution: "They are the most important person in our job, our midwives, basically.
"They are the base of our job, so after this rough year we decided to give them a little bit of love. Why not? And it's actually being for a good cause, our special baby care unit, we're mixing too together today, a raffle and a bit of fun."
There are pathways in midwifery in clinical, management, education and research roles and training includes specialist areas such as gynecology, neonatal, theatre and home births.
More information is available on the Nursing and Midwifery Board of Ireland's website, nmbi.ie, and on the websites of several universities around the country.