The General Secretary of the Irish Nurses and Midwives Organisation (INMO) has welcomed the additional beds announced in last week's Budget but cautioned without extra nurses to staff the beds they are not going to make progress in expanding capacity.
Phil Ní Sheaghdha told the Oireachtas Joint Committee on Health that ''multi-annual funding'' is required and that funding for this year will ''only extend to Model Four hospitals''.
In terms of staffing, she told TDs there has been an increase of 300 nurses since December 2019.
However, she said there are 40 fewer public health nurses and five fewer midwives, according to INMO figures.
The INMO said the focus in the medium to long term should be to increase undergraduate places and train more nurses because retention of staff nurses ''continues to be a big problem''.
In a submission to the committee, Msl Ní Sheaghdha said: ''There is a crisis in the health services because of the high numbers of healthcare staff that are infected with Covid-19.''
She claimed that ''up to 34% are nurses'' who are infected.
Ms Ní Sheaghdha warned that there continues to be high level of absences, ''stretching into 16 and 17 weeks'', she said.
The INMO called for a fresh look at the occupational health policies of HSE.
She added that INMO members want routine testing in acute hospitals and said Covid should be considered ''an occupational illness and should be catered for in health and safety legislation''.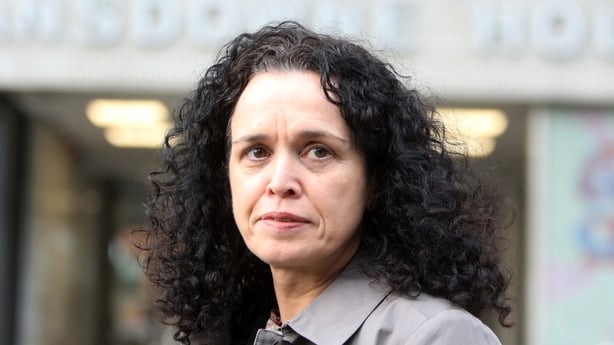 The INMO is also critical of supports available to infected staff and to their protections at work.
Phil Ní Sheaghdha said the supply of PPE has improved.
However, for the last two weeks ''fifty nurses each week have been infected at work and that's a very high figure'', she warned.
Meanwhile, the Irish Medical Organisation (IMO) has told the Oireachtas Joint Committee on Health that ''Covid has exposed the fragility in healthcare sevice in terms of infrastructure and bed capacity.''
Chief Executive Susan Clyne said: ''post covid we will continue to have too few doctors to meet demand.''
Ms Clyne said ''the current picture is one of shortages'' across the system with 500 vacant consultant posts leading to growing waiting lists standing at 840,000.
She added: ''This leads to delayed diagnosis and treatment for patients which leads to increased mortality.''
The IMO claimed Ireland has the lowest number of specialists per head of population and that the HSE has a deficit of 1600 hospital consultants
The IMO said 600 GPs will retire in the coming years and HSE estimates a need for an additional 1,260 GPS over the years to come to meet the demands of patients.
''It is imperative to fund 350 GP training posts to meet our needs'' Ms Clyne added.
Susan Clyne also said Ireland ''only has 60 public health medicine specialists''.
''New Zealand and Scotland, with similar size populations, has 180 public health consultants'' she said.
She claimed that 50% of public health specialists are due to retire in the next five years and there are insufficient trainees in the system to match retirements.
The IMO has called on the Government to resolve the ''disastrous'' two tier pay system for consultants.
Ms Clyne described it as ''inequitable, unfair and biggest barrier to recruitment that this country has ever seen.''
The Irish Hospital Consultants Association (IHCA) has told the Oireachtas Joint Committee on Health a million people are waiting for care in the public health service.
Secretary General Martin Varley told TDs that 250,000 outpatients are waiting for treatment for more than 12 months.
He said: ''17,000 are waiting for inpatient and day cases for over a year, that compares to 131 a year ago."
The IHCA said Ireland has the lowest numbers of consultants in nearly every discipline in Europe.
Martin Varley said there is an overall shortage of 500 posts. Mr Varley said: ''There is no time to lose, winter is coming.''