A 68-bed field hospital has been established at the University of Limerick's Sports Arena to help increase bed capacity at the region's overcrowded acute hospital.
The Intermediate Care Facility (ICF) is a fully-equipped Model One hospital unit, which will provide care for patients who are ready to be discharged from the acute hospitals in the UL hospital's group, but who need extra recovery or rehabilitation time before going home or being transferred to a nursing home.
It can also cater for Covid-19 patients, once they are free of the infection, but need extra nursing and medical care.
The 68-bed facility has the capacity to increase to 84 beds and is laid out in partitioned wards, each with a nurses' station, clinical treatment and physiotherapy areas.
The facility will be consultant-led and staffed by an experienced team of doctors, nurses, and allied health professionals, including occupational therapists, physiotherapists, speech and language therapists and medical social workers.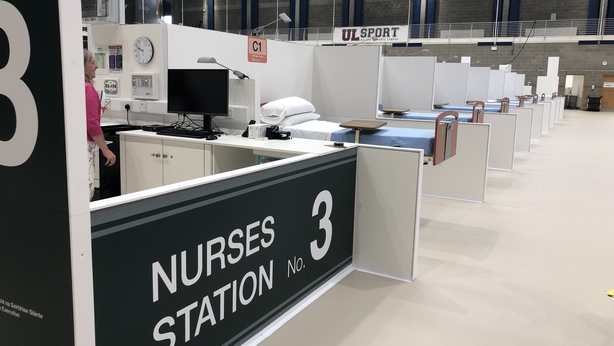 Professor Paul Burke of the UL hospital group, who was the executive lead on the project, said the new facility will help meet the bed capacity and overcrowding problems encountered at the hospital, which is one of the busiest in the country.
Bed capacity operates at 120% for the majority of the time. 
UL hospital is due to get a new 60-bed block by the end of the year. A further 38 single-occupancy rooms are due to be ready by late summer.
But in the meantime this new facility will allow the hospital that extra capacity to continue to manage the Covid-19 crisis.
UL Hospital Group CEO Colette Cowan said it is expected they will need the Intermediate Care Facility until November.
She expects they will see a second surge of respiratory illnesses, flu, and Covid-19 later this year, but says they have been coping well and will be well-prepared if a second surge comes.
UL President Des Fitzgerald, who first mooted the idea of a field hospital, said it provided a partnership between UL and the UL hospital group as a means of supporting the hospital and care facilities in the region during the health crisis.
He said the university will not be in a position to use its Sports Arena for the first semester of the new academic year, so is happy to see it repurposed as a care facility to allow UL to remain at the centre of the region's response to the pandemic.
In addition, he said, the new care facility will provide a unique opportunity for training of UL medical and healthcare students and also has potential for research at the university.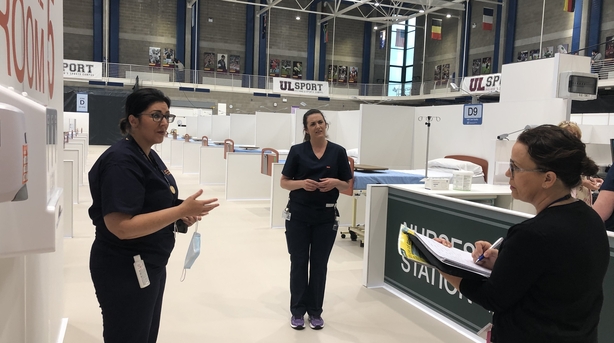 "There will be patients who have recovered from Covid-19 and this would be the ideal situation to observe their continued recovery from a disease with largely unknown long-term consequences," he concluded. 
We need your consent to load this rte-player contentWe use rte-player to manage extra content that can set cookies on your device and collect data about your activity. Please review their details and accept them to load the content.Manage Preferences