Minister for Health Simon Harris has said he has an open mind whether or not to introduce measures to make it compulsory for healthcare workers to get the flu vaccine.
Last year, 53% of hospital workers received the jab, up from 27% in 2016.
The minister said healthcare workers were ten times more likely to get to the flu and said he was interested in bringing in rules to increase the uptake only if they worked.
Mr Harris said he was looking at what other countries do in the area and said a report on the matter was due next year.
He was speaking at the launch of the Health Service Executive's seasonal flu vaccination campaign, warning that between 200 and 500 people die every year from influenza.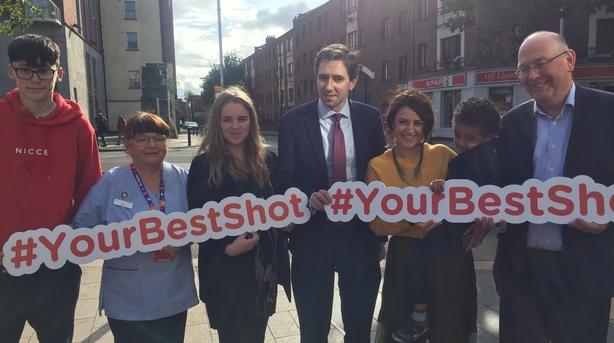 Those in at-risk groups are, in particular, being urged to get vaccinated.
This includes healthcare workers, as well people aged over 65, those with long-term health conditions, and pregnant women.
Mr Harris said the take-up of the flu vaccine among healthcare workers was not high enough.
This year's vaccine protects against four strains of flu. The HSE says its advise is: "Don't let the flu get to you."
---
Read more:
Flu vaccination - your questions answered
---
Speaking on RTÉ's Today with Sean O'Rourke, Interim Director of the Health Protection Surveillance Centre Dr John Cuddihy said that the vaccine was safe.
He said: "The flu vaccine doesn't contain any live flu virus, so it can't possibly cause the flu.
"It does take between 10-14 days before the flu vaccine kicks in, so to speak, so if somebody develops another virus or bad cold during that time, they may mistake that the vaccine has caused the flu but that's not the case."
Today we are launching the 2019/2020 seasonal flu campaign.

Its a good time to remind everyone who is recommended the flu vaccine that it is time to contact your GP, Pharmacy, Occ Health or Peer Vaccinator today and get vaccinated its #YourBestShot https://t.co/KeUTOaFE3a pic.twitter.com/hkvLkkmWOS

— HSE National Immunisation Office (@HSEImm) October 10, 2019