The Director General of the Health Service Executive has recommended to the Department of Health that parts of the judgement in Ruth Morrissey's case be appealed.
Ms Morrissey, who is terminally ill, was awarded more than €2 million in damages last week.
In his judgment, Mr Justice Cross said screeners should have "absolute confidence" before they give the all-clear.
In a letter seen by RTÉ News, HSE Director General Anne O'Connor said the "judgement requires screeners to have absolute confidence" when determining that a smear test is negative.
She said: "Setting such a high bar in law for population-based screen programmes creates an environment that will result in unnecessary investigations and treatments among healthy people."
And she said it "threatens the viability of the screening programme".
Anne O'Connor also said in the letter that she is "hugely conscious of the serious situation of Ruth Morrissey (below) and the impact that the recent litigation has had on her and her family."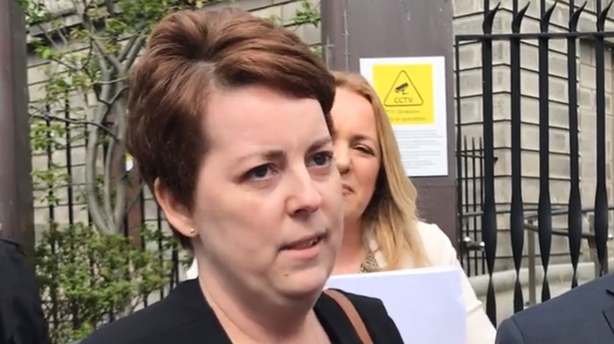 The HSE Director General added that it was "with reluctance, following consultation with relevant clinicians and clinical bodies that I would strongly recommend that we appeal specific parts of this judgement".
Earlier today, Dr Peter McKenna, Director of the HSE's Women and Infant programme, said their intention to review the judgment and seek clarification is over concerns for the "integrity and future of the screening programmes".
Speaking on RTÉ's Morning Ireland, he said: "The sentiment 'absolute confidence' does not sit very comfortably in dealing with medical science or in any of its elements. It is difficult to give that level of assurance in medicine."
We need your consent to load this rte-player contentWe use rte-player to manage extra content that can set cookies on your device and collect data about your activity. Please review their details and accept them to load the content.Manage Preferences
Dr McKenna said screening programmes are not diagnostic.
He said when slides are sent to the labs by medical professionals they are prepared and put on a slide and at that point the slides are looked at by medical scientists or 'screeners' who take out smears that do not look normal and send them to the site pathologist.
He said the process is very different to a diagnostic process where for example if someone had a lump on their leg they would be referred to the hospital where a biopsy would be taken and a histopathologist would give their view.
But he added that even that diagnostic pathway, that warrants a higher level of scrutiny than screening, could not come with "absolute confidence".
"'Absolute confidence' has never been delivered in any screening programme. It is accepted that women will develop cancer in the best regulated screening programmes after a negative smear.
"Interval cancers, which is what these are called, are unfortunate features of every screening programme in every part of the world."
Dr McKenna said there is a threat to screening programmes because of the fact that "absolute confidence" is being set as the bar that is being expected, and if this is accepted, then it is probable that the stream of litigation that will flow from it will make screening too expensive to work.
The Institute of Obstetricians and Gynaecologists, meanwhile, has said it "notes the recent landmark judgment".
In a statement the institute added: "The members have concerns for the implications to a life-saving screening programme. Cervical screening exists to reduce the burden of disease through repeated smears with secondary referral of selected women.
"There are worldwide accepted limitations to the smear test.
"There must be realistic expectations of cervical screening if clinicians are to continue to deliver a service which has shown continued reduction in cancer cases since inception."
Separately, Professor Mary Horgan, President of the Royal College of Physicians of Ireland, said: "Recent events have highlighted the limitations of screening and as healthcare professionals we are committed to supporting these essential services.
"The recent High Court judgment that references the cervical screening service requires careful consideration in terms of its impact on this service, other screening services and its broader implications for medical practise."