The Minister for Health has stood over his position that he was not advised against the decision to offer a free smear test to every woman in the country.
Simon Harris said it was "kind of bizarre" that people were suggesting that women went for repeat smear tests because of any decision he made.
"Women were going to their doctor to seek repeat smear tests to provide reassurance to themselves," he said.
He speaking after the former head of CervicalCheck, Dr Gráinne Flannelly, told the Oireachtas Health Committee that she had warned against the decision just hours before it was announced publicly on 28 April 2018.
In a letter to the committee, she said she had told the head of the HSE's National Screening Service at the time that issues would arise because there was not enough lab capacity to cope with an increased demand, and that the decision would "fundamentally undermine the screening programme".
She said a decision was announced later that day and "no further explanation was forthcoming". Ms Flannelly stepped down as director of CervicalCheck later that evening.
Mr Harris said: "I never received any contrary advice in relation to the provision of free repeat smear tests so I'm very happy to reiterate that point today."
However, he said that after the decision was made, "some in Cervical Check programme did express some concerns".
The minister said the announcement was made during a "very difficult time, a very worrying and frightening time for women".
He said: "Politicians, GPs and many, many others were saying 'you need to be able to provide women with assurance'. It was the number one query coming into the CervicalCheck help line: Can I have another smear test or do I need to wait three years?"
The minister said women were already seeking out-of-cycle smear tests and "the question was: were we going to make women pay for it or were we, as a State, going to step up and pay for it because of the debacle that had ensued?"
He said: "It's kind of bizarre that people are trying to suggest that women went for repeat smear tests because of any decision that I made.
"Women were going to their doctor to seek repeat smear tests to provide reassurance to themselves because they couldn't get that reassurance until the Dr Scally report came out."
Harris accused of misleading Dáil over smear test advice
Earlier, the minister was accused of misleading the Dáil by claiming he was not advised against offering a free cervical smear test to all women last year.
Fianna Fáil's health spokesperson Stephen Donnelly told the Oireachtas health committee that correspondence from Dr Flannelly directly contradicts the minister's version of events.
In a submission to the committee, Dr Flannelly said she had raised concerns that such an offer would "fundamentally undermine the screening programme".
She said that at lunchtime on 28 April 2018, she met the Health Service Executive's Head of Screening, Charles O'Hanlon, and raised concerns about a proposal for a free out-of-cycle smear test.
Her concerns included that laboratories would not have sufficient capacity to cope with demand and that it would not be possible to pay GPs to provide the service.
Later that afternoon, the Minister for Health tweeted that all women would be offered a free smear test.
Speaking at the committee, Mr Donnelly said the offer had "overloaded" the system.
"She predicted what would come to pass. She predicted what we are dealing with today", Mr Donnelly said.
"What she says directly contradicts the minister's position and what she says suggests that the minister has misled the Dáil for a second time.
"He misled the Dáil on the Children's Hospital and has apologised for doing so," Mr Donnelly said.
Sinn Féin's Louise O'Reilly said: "It's very, very clear that advice was given that should have made its way to the minister."
Dr Flannelly made a lengthy written submission to the committee, but will not be attending today. She stepped down on 28 April last year in the wake of the crisis.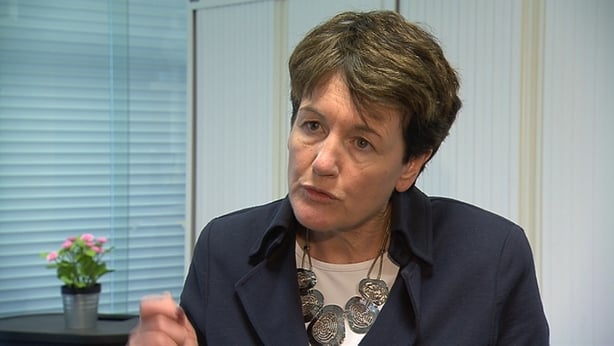 ---
Read More:
Most new CervicalCheck smear tests expected to be sent to US lab amid backlog
More than 2,300 women still waiting for repeat smear test results 
---
The National Director of Screening Services Damien McCallion told the committee that the HSE has been trawling the world to find extra screening capacity for cervical smears.
He said that The Coombe Laboratory has a turnaround time for tests of about three weeks and Quest about seven weeks, but for MedLab it can be up to 33 weeks.
Mr McCallion said that in seeking extra capacity elsewhere, the HSE had to ensure quality assurance and that no contracts will be signed with new labs until this assurance is done.
He said that the independent review by a team in Britain of around 1,700 slides from women who were diagnosed with cervical cancer will take about six months to complete.
He said that in recent weeks, the laboratories have started the transfer of slides for the review by the Royal College of Obstetrics and Gynaecology. 
The HSE representative told the committee that the CervicalCheck programme has saved lives and continues to do so.
Mr McCallion said that there had been no decrease in the number of women seeking screening.
He said that the clinical advice it has is that the current waiting times for screening results present a low clinical risk to women.
Asked if the advice of Dr Flannelly had reached the minister, Mr McCallion said: "We cannot answer that because we were not there at the time. That is something the department can address. All we can do is explain the context of it."
Meanwhile, Taoiseach Leo Varadkar has said the damage to the CervicalCheck programme was not done by Mr Harris, but by the officials and clinicians at the centre of the non-disclosure controversy.
Speaking during Leaders' Questions, he said the backlog of smear tests was significant and tens of thousands of women were waiting far too long for results.
He said he had been informed by the HSE that it had sourced additional labs capacity, which will allow it to reduce the backlog in the coming weeks.
He was responding to Fiánna Fail leader Micheál Martin, who said Mr Harris should appear before the Dáil to give the sequence of events that occurred leading up to the decision to offer free smears.
Mr Martin said the minister's decision to offer free smear tests to every woman who wanted one damaged the programme and put it under enormous strain.
Additional reporting Fergal Bowers & Aisling Kenny