Doctors in Australia have recorded a case of an extremely rare type of twin - born from one egg and two sperm.
It is only the world's second known case of semi-identical twins.
The boy and girl, born in Brisbane, share identical DNA on their mother's side, but the father's DNA differs in each twin.
The case has been reported in the New England Journal of Medicine.
It suggests that such twins are incredibly rare, as embryos such as these often do not survive. The only other reported case was reported in 2007.
The boy and girl were born to a first-time mother, aged 28. They are now aged four-and-a-half and their identity has not been revealed.
How does the science work?
Nearly all twins are either fraternal (where two eggs and two sperm have created two separate embryos) or identical (where one embryo splits in two, before resuming normal development for each child).
Dr Michael Terrence Gabbett of Queensland University of Technology in Brisbane told Reuters: "This is confirming there is this third type of twinning where it's not fraternal and it's not identical. It's this strange place in between."
Each sperm cell contains half the father's DNA, but it is not identical from sperm to sperm because each man is a mixture of the genetic material from his parents, and each time a slightly different assortment of that full DNA set gets divided to go into a sperm.
For example, some sperm will contain a copy of the father's Y chromosome that makes the child develop into a boy, and some will carry the father's X chromosome, which makes the child a girl.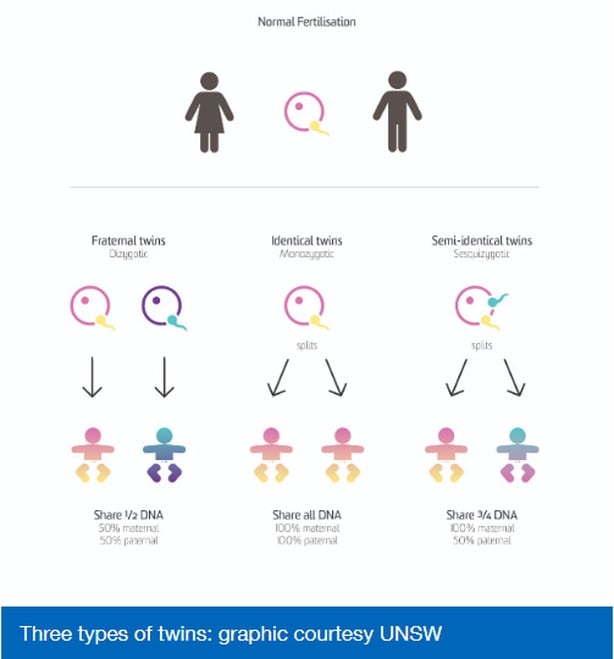 How was the case identified?
An ultrasound was taken early in the pregnancy, which showed that both fetuses shared the same placenta.
This led doctors to assume that the fetuses were identical twins.
But when an ultrasound eight weeks later revealed that one child was male and the other female, something considered impossible for identical twins, Dr Gabbett's team knew something extraordinary had happened
The twin boy and girl were found to have 100% of their mother's DNA in common, but were only 78% identical in the paternal DNA they carry.
We need your consent to load this YouTube contentWe use YouTube to manage extra content that can set cookies on your device and collect data about your activity. Please review their details and accept them to load the content.Manage Preferences