Women's health campaigner Vicky Phelan has described herself as an "accidental" leader.
Speaking in her keynote address at FemFest, Ireland's biggest conference for young women, Ms Phelan said that by challenging the Government, she assumed a leadership role.
Ms Phelan was diagnosed with terminal cancer after a false negative cervical smear test carried out as part of CervicalCheck.
She was awarded a €2.5m settlement by the High Court in April 2018 in a case taken against the US laboratory that carried out the test.
Since then she has become one of the leading figures in the CervicalCheck controversy.
In November 2018 she called for the cancer drug Pembrolizumab to be made available to all women in Ireland with cervical cancer.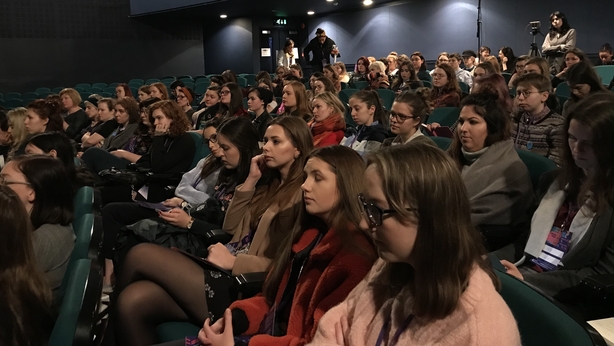 More recently, she has criticised Taoiseach Leo Varadkar for the Government's handling of the crisis.
Speaking at an event in Limerick last weekend she described the Taoiseach as "all talk and no action" and added that she did not get the sense from Mr Varadkar that he was treating the issue with sufficient importance.
This morning, Ms Phelan shared a graphic account of the aggressive treatment she received when she was diagnosed with cervical cancer and urged the young woman in attendance at the event to avail of a smear test.
She said that if just one woman had the test after listening to her story, it would be worth it.
"It is an horrendous cancer. This is why I am so graphic about it. If there are still some women who are on the fence about having a smear test, I'm here to tell you that if you don't have a smear test and you get cancer, this is what you are up against."
The theme of FemFest is leadership, with many of the discussions taking place at Liberty Hall in Dublin today focusing on the importance of role role models for young women under the age of 25.
More than 200 young people gathered at Dublin's Liberty Hall for the event, which is now in its fourth year and was organised by the National Women's Council of Ireland.
Its director Orla O'Connor said that she was delighted to see young women gathering to shape their "feminist future", and stressed the importance of women under the age of 25 having positive female role models.
"You can't be what you can't see, and right now, young women are telling us that they don't see enough women role models in Irish society. We need to see more diverse female role models in all areas of society, including politics, business, media and the arts. The young women here today are the leaders of tomorrow."