The Health Service Executive has confirmed that the former University Hospital Kerry employee at the centre of a major scans review worked elsewhere in the Irish health service in the 1990s and in 2006.
The employee worked at a hospital in the 1990s for one year and also worked for two months in 2006 at the same hospital.
The HSE will not disclose where the individual worked and said that no issues arose.
This evening, it was confirmed that the former employee at University Hospital Kerry had worked as a consultant radiologist there.
The HSE said that "the consultant radiologist has been reported to the Medical Council who are investigating the matter".
The hospital is examining over 46,000 X-rays, ultrasound images and CAT scans.
During the summer, concerns regarding some scans at University Hospital Kerry emerged after complaints were made by a number of GPs and consultants.
It led to a mass review, starting at the end of October, into over 46,000 images, involving over 26,700 patients.
The hospital still has to review over 28,000 images and hopes to complete this within six weeks.
This evening, the hospital confirmed that the number of serious delayed diagnoses arising from the scan review increased from three to seven.
At least three of the cases involve cancer diagnosis delays. 
Senior hospital management and the HSE briefed public representatives on the issue in Tralee today.
Dr Gary Stack, a GP in Killarney, has said he is reassured that the scans, which had been taken at University Hospital Kerry, and have now been rechecked, show that the number with significant issues is "very minimal, about 1 in 1,000."
Speaking on RTÉ's Six One, Dr Stack said patients should be reassured that the review to date has found "very few significant errors."
Earlier, the hospital's Clinical Director, Dr Claire O'Brien, said the issue which led to the review was not about resources at the radiology unit.
Speaking on RTÉ's Morning Ireland, she said the original abnormalities were found by a staff member at the hospital and this led to a decision to examine the work of a former staff member.
She said 18,000 images have been reviewed since October and 21 patients recalled, but none had required further action.
A helpline set up to deal with patients' concerns over the review has received a steady stream of calls since it opened this morning.
By mid afternoon, the helpline received around 120 calls. It will operate until 10pm tonight.
The helpline will also operate from 9am until 10pm tomorrow and Wednesday, as well as 9am until 5pm on Thursday and Friday.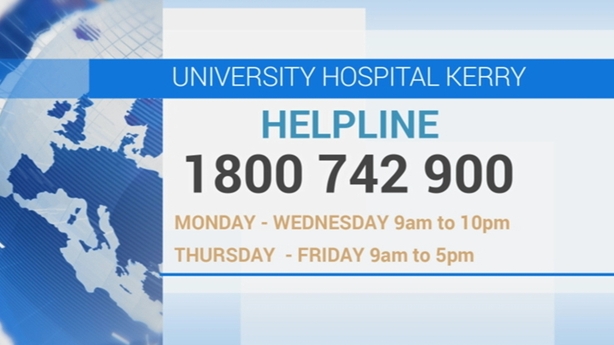 Extra external consultants appointed in scan review
Minister for Health Simon Harris told RTÉ News that extra external consultants had been appointed to assist, increased from six to nine.
It brings the total number of consultants involved to 12.
As of today, the number of images reviewed had increased from 18,000 to 20,171 images.
There are 46,300 images in total to be reviewed.
Minister Harris said that the HSE will provide an update on the review every Thursday until it is completed.
SIPTU Health Division Organiser Paul Bell has said the X-ray department at the hospital is a very unhappy place to work.
He said that radiographers raised issues about the department, and the management of it, in November 2016.
Mr Bell said a report, published in December 2016, identified a deficit in staff levels.
He called for an independent review of the unit and a report addressing staffing levels to be published.
He said: "The concerns of our members are being ignored, even though there's now an independent report that confirms a number of these concerns are bona fide and need to be addressed.
"Management have chosen, for the last 12 months, to ignore the fact that they need to engage. This requires urgent action."
Mr Bell said later this morning that the HSE has offered to meet its members at the hospital to discuss the implementation of the report.
Fianna Fáil's Health Spokesperson has said the scan recheck raises questions surrounding protocols, processes and oversight, not just in Kerry but in all hospitals across the country.
Speaking on RTÉ's News At One, Billy Kelleher said it is important that University Hospital Kerry gets the full resources available and ensures all patients are contacted.
He said it is important that people are not unduly worried.
Sinn Féin's health spokesperson Louise O'Reilly said the HSE needs to be more transparent surrounding its review of scans at University Hospital Kerry. 
Speaking on RTÉ's Today with Sean O'Rourke, she said it is not acceptable that patients were not informed of the review and were first made aware of it in the media.
She said: "Part of the failings of the HSE, a lot of the time, is that there's no transparency. So if we are to be satisfied that everything that can be done is being done, well then, it'll need to be done in a completely transparent way."