A report from the National Cancer Registry has found that there are almost 170,000 people in Ireland who have survived after getting a diagnosis of cancer.
The report says rates of cancer appear to have stabilised or even fallen, while improved treatment means that more people are now surviving the disease.
The rate of cancer per head of population has fallen by 2% annually for men and by 0.1% for women.
It found that the overall 5-year cancer survival now stands at 61.1% for all tumour types, which is up from 44.2% between 1994 and 1998.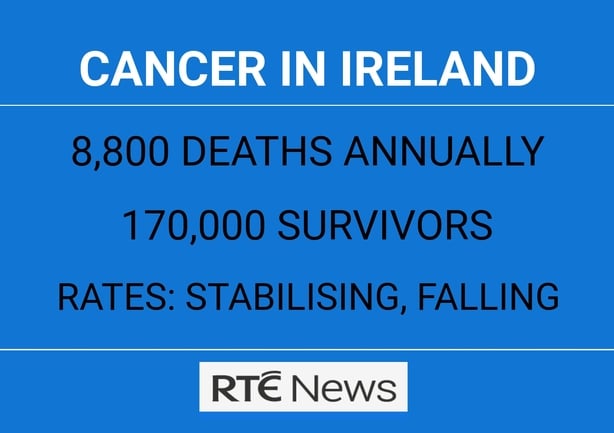 However, cancer remains the second most common cause of death in Ireland, accounting for an annual average of around 8,800 deaths.
The National Cancer Registry has been collecting and collating information about cancer since 1994.
The information is used in research into the causes of the disease, in education programmes and in the planning of treatment services.
The Director of the National Cancer Registry, Professor Kerri Clough-Gorr, attributes the improved survival rates to earlier diagnoses, improved treatments and targeted treatments of tumours.
She said planning for the long-term support and follow-up needs of cancer survivors was an important health priority, which had to be backed up by investment.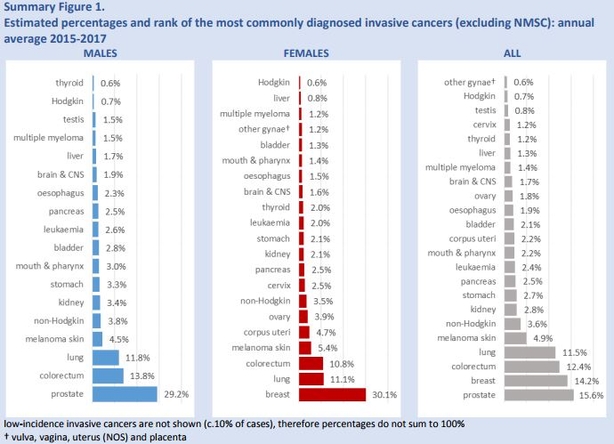 However, speaking on RTÉ's Morning Ireland, Professor Clough-Gorr said it was "very troubling" that cancer survival rates were lower among disadvantaged communities.
She said poorer people were often restricted to free services and tend to present later to doctors.
Professor Clough-Gorr said that more cancers were being diagnosed because of the aging population.
She said the risk of dying remains higher among men and that this trend was replicated in other developed countries.
There is no definitive reason for this, she said, but many factors point to lifestyle choices.
Minister for Health Simon Harris said: "I am delighted to see a reduction in the incidence of cancer.  It is also most encouraging to see that survival rates are increasing for many cancers."
The report estimates that 22,320 invasive cancers were diagnosed annually during 2015-2017.
Survival rates for some cancers are now above 80%, including testis cancer (96.3%), prostate cancer (92.1%), skin melanoma (88.7%), and breast cancer (82.9%).