The HSE has reached agreement, in principle, with the drug company Vertex Pharmaceuticals for the drugs Orkambi and Kalydeco to be provided to people with cystic fibrosis from the beginning of next month, the Dáil has been told.
Orkambi will be provided for patients aged 12 years and older and Kalydeco for patients aged 2-5 years.
The Minister for Health told the house he expects the medicines to be available from 1 May.
Simon Harris made the announcement during Topical Issues in response to questions from TDs Joan Collins and Gino Kenny.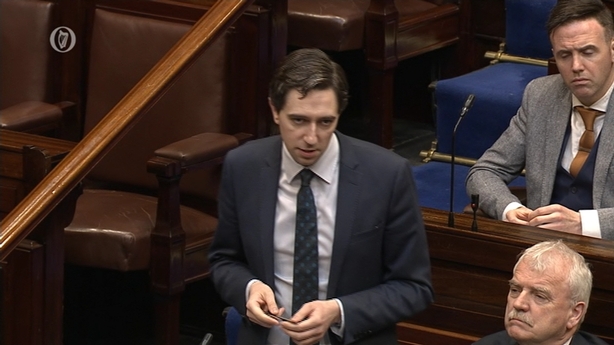 The contractual arrangements are still being finalised and the Minister will bring these to Cabinet, when they are concluded.
As a result, no details of the cost of the deal have been given at this point but Orkambi is likely to be the most expensive drug ever bought by the State.
The long-term agreement is likely to run for about ten years.
Around 600 people with cystic fibrosis have been waiting for news on Orkambi being made available by the HSE.
The deal will also provide for other treatments from Vertex, such as improved cystic fibrosis drugs, to be made available to patients following market authorisation in Europe.
Intensive discussions between the HSE and Vertex began last Wednesday and have continued into this week.
Vertex had initially sought €159,000 per patient a year for Orkambi but this was reduced.
In a statement the company said they look forward to continuing to work urgently with the HSE over the coming days to finalise the agreement in the best interest of Irish cystic fibrosis patients who have waited long enough for these important medicines.
'People shouldn't have to take to the streets in order to get a drug,' CF campaigner Jillian McNulty after a deal was reached over CF drugs pic.twitter.com/JeKLNwlQuz

— RTÉ News (@rtenews) April 11, 2017
Cystic Fibrosis Ireland has welcomed the news of an agreement, saying Orkambi will benefit around 550 patients and Kalydeco will benefit around 40 patients.
The organisation said that while it had yet to see the full details of the agreement, it understands it will include all patients who have the potential to benefit from the two drugs.
It paid tribute to the CF community who had spoken out in recent months.