The European Union and the Organisation for Economic Co-operation and Development have produced a major study of health across 36 European countries, showing the state of health systems and the relative health of populations across a range of sectors.
The study shows that life expectancy has increased by more than six years in Europe since 1990, rising from 74.2 years to 80.9 years.
It also found that those in Western Europe live on average eight years longer than people in Central and Eastern Europe, and that within countries there are still large inequalities in health and life expectancy depending on levels of education and income.
The Health at a Glance study shows that more than 1.2 million people in European countries died from illnesses and injuries that might have been avoided through more effective public health and prevention policies.
For Ireland some of the comparative findings are surprising.
Both Ireland and Sweden have the highest proportion of adults rating their health as good or very good, with 80% or more doing so.
Ireland has the second highest death rates from respiratory diseases among EU countries after the UK.
It is also among the top four in chronic pulmonary diseases such as bronchitis and emphysema.
For HIV, Estonia had the highest rate of new cases in 2014, mostly through the sharing of contaminated needles.
Ireland had the eight highest rate of new cases with 7.8 per 100,000, but Ireland had the second highest rate of gonorrhoea infection at 28.3 per 100,000, behind the UK at 59.7 cases.
However, contrary to what might be expected, Ireland has below average suicide mortality rates.
In 2013 they were tenth lowest in the EU, with 18 per 100,000 people taking their own lives, compared to 68 in Lithuania which has the highest incidence.
Ireland had the fourth highest incidence of cancer in 2012 with just under 350 cases per 100,000 people.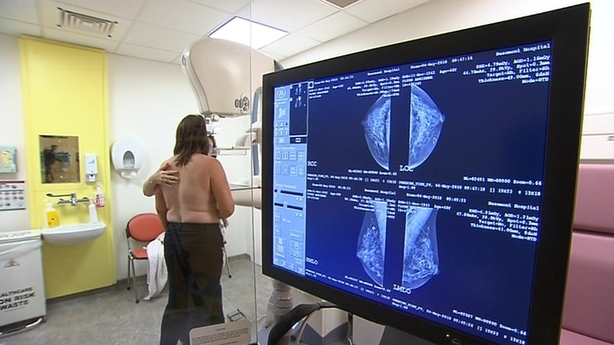 Ireland was ranked sixth for breast cancer incidence, and third for prostate cancer incidence among men.
However, Ireland had the sixth lowest estimated prevalence of dementia in 2015 with around 11 cases per 1,000 population.
When it comes to smoking, Irish 15-year-olds are the third least likely to smoke once a week, behind Denmark and Sweden.
Ireland also has the eighth lowest incidence of smoking among adults, with 19% of the population aged 15 and over smoking, compared to Bulgaria which has the highest, at 28% of the population.
The EU average is around 21% and smoking rates across the EU have fallen by 16% since 2000.
The infant mortality rate in Ireland is just above the EU average with 3.7 deaths per 1,000 live births, while Romania has the worst record at 8.4 deaths. Slovenia has 1.8 deaths.
Child mortality is at 11.5 per 100,000 children aged 1-14, just below the EU average.
Sweden has the best record at 8.3 deaths while Bulgaria has the highest level at 26.
Ireland ranks fifth lowest when it comes to 15-year-olds admitting to having been drunk at least twice in their lives, with 16% of boys and girls, compared to 39% and 36% in Denmark which had the highest rate.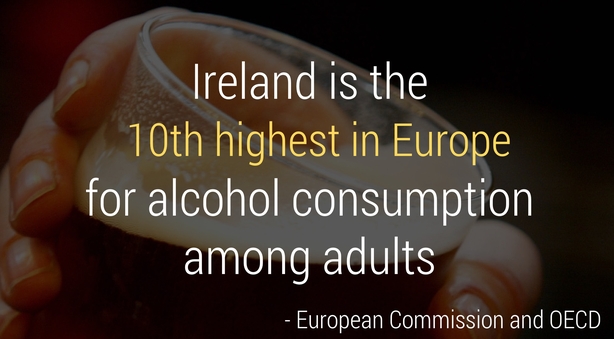 For alcohol consumption among adults, Ireland ranks tenth highest, with 11 litres per capita aged 15 and over in 2014, falling from over 14 litres in 2000. Lithuania is highest at over 14 litres per capita while Sweden has the lowest at seven litres per capita.
On children being overweight, Ireland ranks just over the EU average.
Figures from 2010 say just over 21% of girls and 12% of boys aged seven registered as overweight or obese.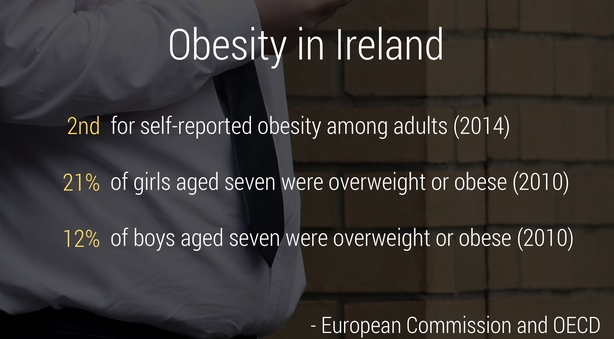 Greece has the highest level, in terms of 10-12 year olds, compared to Poland, which has the lowest levels.
However, Ireland ranks second in self-reported obesity among adults in 2014 with 23% of the population aged 15 or over behind Malta which is at 26%.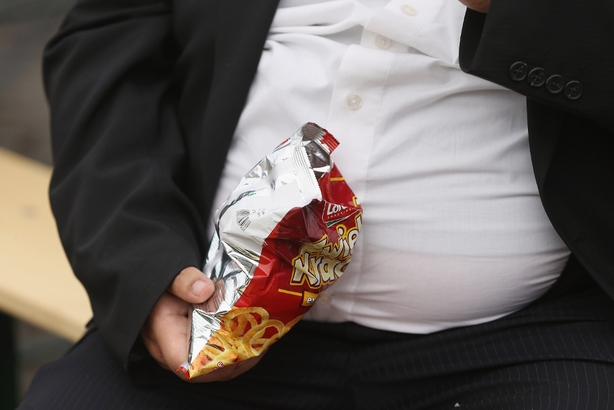 The report shows that obesity has grown quickly in Ireland, Austria, France and Finland over the past 14 years.
Ireland is ranked second in terms of moderate-to-vigorous physical activity among 11- to 15-year-olds.
The report shows that 10.3% Irish people aged between 15 and 34 used cannabis in 2014, ranking Ireland 12th overall and below the EU average, but the figure rises for cocaine use.
Ireland is ranked fourth behind the UK, Spain and the Netherlands among 26 EU countries with 2.8% of the population at 15-34 using cocaine.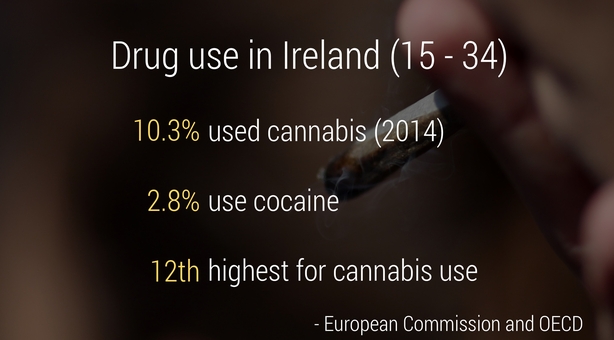 Irish city dwellers have the second lowest exposure to air pollution after Finland with a sharp fall in particle levels since 2003.
Ireland has the fifth highest health expenditure per capita with €3.9bn both in the public, compulsory sector and the private/voluntary sector, well above the EU average.
Luxembourg has the highest and Romania has the lowest expenditure.
In terms of the health spend as a share of GDP Ireland ranks 11th at 9.4%, slightly below the EU average.
Ireland is the second highest spender on pharmaceuticals per capita with an annual amount of €523, just behind Germany.
Ireland ranked third in terms of government or compulsory insurance spending as a share of total government expenditure in 2014.