The former Archbishop of Westminster Cardinal Cormac Murphy-O'Connor has died after a battle with cancer.
The 85-year-old, whose parents were from Cork, led the Catholic Church in England and Wales from 2000 until he took the unprecedented step of retiring in 2009 having reached the Vatican's age limit. All his nine predecessors had died in office.
The Cardinal was admitted to hospital last month and his successor in Westminster, Cardinal Vincent Nichols, said he died this afternoon surrounded by family and friends.
Dr Nichols told the Press Association: "The entire Catholic community and many others will mourn the death of Cormac Murphy-O'Connor.
"He led the Catholic Church with verve and enthusiasm - he was a man who loved life and lived it to the full and he died peacefully and with real humility.
"I spoke with him yesterday and we laughed a lot about shared memories and he told me very movingly of his readiness and trust in this next step that he is to take, which is to leave this world and to die and go into the presence of God."
Cardinal Nichols said Cardinal Murphy-O'Connor had not wanted to "linger" after his health took what the former said was a "defining turn" in August.
He said: "He has not lingered - as one of my bishops said 'he was texting the angels to tell them to get on with it'."
Early Life
For a period during the Second World War, the late Cardinal's parents sent him from his native Reading to live with relatives in Cork city where he attended Presentation College. He said the move ensured he was better fed because wartime rationing was less strict here than in Britain.
Asked by RTÉ News whether he was a liberal or a conservative, he responded: "I'll put it this way - when I played rugby for Pres, I played in the centre."
Priest and Bishop
In 1950 he began training for the priesthood in Rome's Venerable English College where two brothers, Brian and Patrick, were already seminarians.
The Cardinal's obituary on the website of the Catholic Church in England and Wales recalls that when he became Rector of the English College 21 years later, in the wake of the upheavals of the Second Vatican Council, there was "constant need, as he later put it, to 'broker a peace between the people who want to change everything and the people who want to change nothing'.
Murphy-O'Connor proved to be a steady pair of hands and did much to boost student numbers and the College's finances.
As Rector he also hosted (the Church of England's) Archbishop Coggan of Canterbury during his historic visit to (Pope) Paul VI in 1977."
In 1977 Murphy-O'Connor was appointed the third Bishop of Arundel and Brighton, a diocese covering Sussex and Surrey.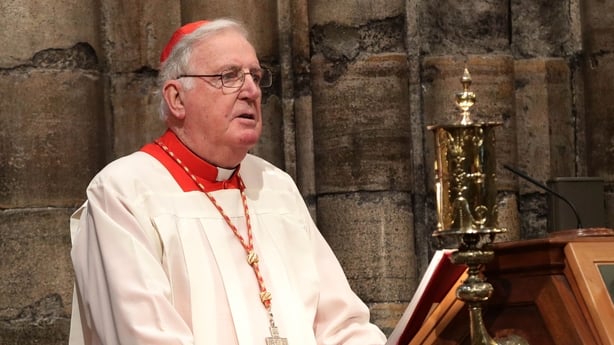 Scandal
After his appointment to Westminster in 2000 where he became leader of the Catholics of England and Wales, he faced what an article on the Guardian website calls "sustained and highly-damaging criticism of his handling of the case of a paedophile priest when he had been bishop of Arundel and Brighton in the 1980s".
"After receiving a complaint about Father Michael Hill's behaviour towards a child," The Guardian recalls, "Murphy-O'Connor had sent him away for counselling, and later to a course at a "therapeutic centre" run by a church organisation, rather than report him to the police.
"Later, when begged by Hill for a second chance, and without attempting to speak to his victims, Murphy-O'Connor appointed him as Catholic chaplain at Gatwick Airport on the grounds that Hill would not have access to children there. He did - as should have seemed obvious - and he abused them. Hill was jailed in 1997 for five years.
"'Of course, with hindsight, I should have reported Hill to the police,' the late Cardinal said in 2015 when he published his memoir, 'An English Spring', which included an extended and agonised mea culpa for the errors he had made over child abuse.
"I don't want to make any excuses. I had to bear the shame, for me and for the church, and try to do something about it."
The official Church obituary recalls the scandal as follows:
"Aware of the scourge of child abuse and having had personal experience of cases as bishop of Arundel and Brighton, he commissioned Lord Nolan to chair an independent review on child protection in the Catholic Church in England and Wales. This was a landmark document and led to the establishment of an independent office (COPCA) to oversee the protection of children and vulnerable adults.
"In order to consolidate this work, he also commissioned a review, conducted by Baroness Cumblerledge, which led to the establishment of the Catholic Safeguarding Advisory Service and the National Catholic Safeguarding Commission."
Highlights of his career included accepting the former British prime minister, Tony Blair into the Catholic Church months after he had completed his term in Downing Street.
He was also playfully accused by Pope Francis for engineering the Argentinean's election as Pope in 2013.
"You are to blame," the Pontiff jibed when the two men met at a Papal audience sometime later.
But the normally deft handler of awkward situations pointed out that he was 80 at the time of the election.
This allowed him to attend only the preliminary sessions of the College of Cardinals which discussed the Papal vacancy but his age rendered him ineligible to vote in the subsequent Conclave that chose Pope Francis.
Reaction
The head of the Anglican Church, the Archbishop of Canterbury, paid tribute to the cardinal, saying people saw in him "something of Christ".
Archbishop Welby said: "His humility, sense and holiness made him a church leader of immense impact.
The cardinal was a "good friend" to Anglicans across the world, the archbishop said, adding that his work as co-chairman with the Anglican-Roman Catholic International Commission was undertaken with "customary good humour".