A man who fatally stabbed Gdansk mayor Paweł Adamowicz in 2019 has been sentenced to life in prison by a Polish court.
Stefan Wilmont murdered the 53-year-old on stage during a charity event on 13 January 2019.
Mr Adamowicz died from his wounds the next day despite a blood transfusion and other efforts by doctors to save him.
The killing shocked Poles and plunged the nation into grief, with tens of thousands of people attending his funeral.
Judge Aleksandra Kaczmarek said in her ruling that Wilmont had committed an "unprecedented murder" in Poland's history, but did not say it was a political crime, despite Wilmont's criticism of Mr Adamowicz's party, which is now in the opposition.
Judge Kaczmarek stressed that Wilmont's crime was "terrifying" as he had planned it so the public would see and showed no remorse during his trial, repeatedly smiling and laughing while the verdict was being read out.
The sentencing came after a three-year investigation and a year-long trial and was in line with the prosecution's motion.
The court said that on the basis of expert assessments, 30-year-old Wilmont suffers from "profound personality disorders" but does not exhibit signs of a mental illness.
Wilmont's lawyers said they would appeal against the sentence, though told reporters they have yet to make their final decision.
Mr Adamowicz had been the mayor of Gdansk for 20 years and had been re-elected the previous year with around 65% of votes.
Mr Adamowicz's brother, legislator Piotr Adamowicz, said the verdict closed one stage in the case but an appeal trial could be expected later this year.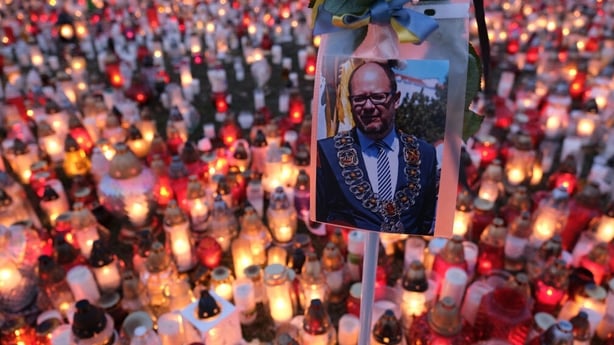 "No one can give my brother his life back," he said.
The situation is not "not easy" for the family who went through a "huge tragedy in 2019" and it is brought back to them at every court session, he added.
"The killer was obsessed with Civic Platform (to which Mr Adamowicz belonged until 2015)".
He said the killer was also fixated on "my brother, who in his eyes symbolised the root of all his problems".
The conservative ruling Law and Justice party has faced accusations that a hostile atmosphere against Mr Adamowicz and other socially liberal politicians spread by state media created fertile ground for the attack.
Additional reporting by AFP