Police and protesters clashed in the Belarus capital Minsk and other cities, after a presidential vote that the opposition claimed was rigged, media reports said.
Independent local media said a police van rammed into a crowd of protesters in central Minsk and dozens of people were detained.
A live video feed provided by US-funded Radio Liberty showed hundreds of riot police facing off with protesters and firing stun grenades to disperse the crowd.
Witnesses said several thousand protesters and around 1,000 police gathered near a central monument in Minsk, with clashes erupting and some protesters trying to set up barricades.
An exit poll had earlier shown that longtime Belarusian leader Alexander Lukashenko had won his country's presidential election with 79.7% of the vote. He has led the country of 9.5 million people for the last 26 years.
Main opposition challenger Svetlana Tikhanovskaya came second with 6.8%, according to the poll. She said afterwards: "I believe my eyes, and I see that the majority is with us."
"A deep, unprecedented political crisis is setting in," Ms Tikhanovskaya's top ally, Maria Kolesnikova, told a press conference.
She accused authorities of blatant vote violations, saying turnout of more than 100% had been registered at some polling stations. The government is "incapable of running the country," she said.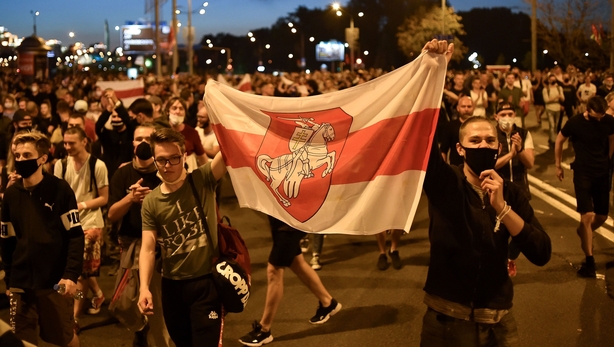 Ms Tikhanovskaya, a 37-year-old English teacher and translator, stood for election after authorities barred her husband, popular blogger Sergei Tikhanovsky, from running and then jailed him.
She swiftly emerged as Mr Lukashenko's strongest rival and her rallies drew tens of thousands of supporters across the country.
Meanwhile Mr Lukashenko, 65, was battling a wave of anger over his handling of the Covid-19 pandemic, the economy and his human rights record.
A polling station in the centre of the capital, Minsk, this morning was unusually busy with voters standing in line for ballot papers, an AFP reporter saw.
Many wore white bracelets after Ms Tikhanovskaya urged her supporters to wear them.
"We are waiting for changes," said one voter, a 60-year-old woman speaking on condition of anonymity.
She added that she voted for a "new president," Ms Tikhanovskaya, because she "promises us the possibility of choice and changes."
"Twenty-six years is a very long time. We need fresh blood," said a 33-year-old businesswoman, adding: "I voted for Tikhanovskaya."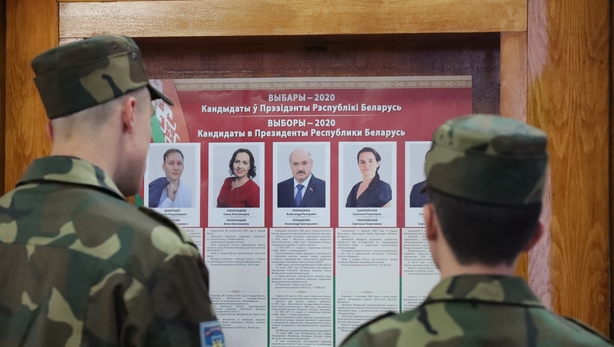 Ms Tikhanovskaya says she is not a politician, describing herself as an "ordinary woman, a mother and wife."
Political observers said there is little doubt that Mr Lukashenko, who is seeking a sixth term, would rig the vote in the absence of international observers.
Independent observer group Right of Choice said that at least 28 of its observers had been detained and election officials barred others from entering polling stations.