France has crossed the threshold of 10,000 deaths due to coronavirus, according to a government official.
10,328 fatalities have been recorded - 7,091 in hospital and 3,237 in old age homes.
The rate of increase of fatalities is up for the second day running.
A total of 7,131 people are being treated in intensive care, head of the public health authority Jerome Salomon said, warning that "the epidemic is continuing its progression".
France has become the fourth country to go beyond the 10,000 threshold after Italy, Spain and the United States.
Officials in Paris have announced that they will ban daytime jogging to stop people from bending lockdown rules.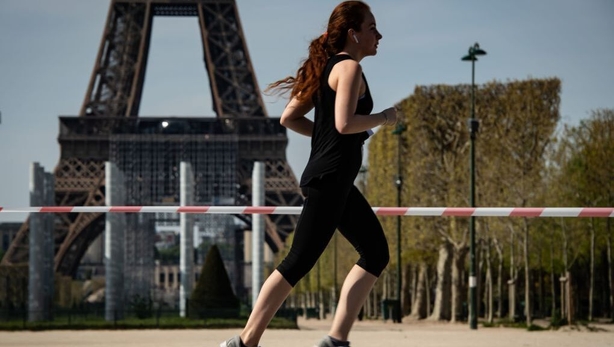 Under nationwide stay-at-home orders that came into force on 17 March, people can leave their homes only for essential purposes, which until now included a solo walk or run within a 1km radius of home.
But amid a spell of sunny spring weather, large groups of Parisians were seen running, walking and congregating over the weekend, even as police stepped up patrols and issued fines for lockdown violations.
From tomorrow, Paris will enforce a ban on individual outdoor sports between 10am and 7pm.
The Atlantic coastal resort city of Biarritz has limited the period people can sit on benches or in other public areas to two minutes maximum, saying confinement meant that "dawdling is prohibited."
Paris, Biarritz and other cities have already closed public parks and gardens as part of the nationwide lockdown that requires people to carry a document justifying any excursion from the home.
Those caught without the document risk a fine starting at €135.
In the north of France, the mayor of Marcq-en-Baroeul has made spitting in public, coughing or sneezing without covering one's face, and throwing used masks and gloves in the street punishable by a fine of €68.