Spain on has reported a 32% spike in new deaths from the coronavirus, bringing the country total to 1,326 fatalities, the second highest in Europe after Italy.

The number of infections across the country also shot up to 24,926, the health ministry said in a statement. 

The capital Madrid remains the hardest hit in the country, according to the tally reported by the ministry. 

The new numbers follow a fresh spike in both deaths and infections on Friday. 

Spain has issued lockdown orders for some 46 million people who are only permitted to leave their homes for essential work, food shopping, medical reasons or to walk the dog.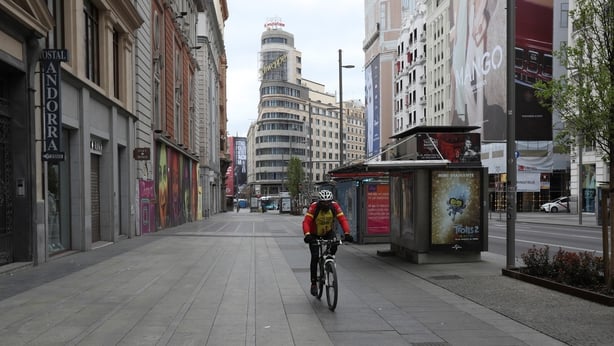 Yesterday, a total of 2,640 troops had disinfected the country's main airports and ports along with retirement homes and prisons, General Miguel Angel Villarroya, chief of the defence staff, told the same news conference.
On Thursday, police arrested 55 people for not respecting the lockdown that was put in place at the weekend, under which Spain's 46 million population can only leave home to shop for food or medicine, go to the hospital or go to work. 
National police chief Jose Angel Gonzalez said there was "a rising trend" in the number of people defying the stay-home order, warned that police were operating with a policy of "zero tolerance".
In neighbouring Portugal, authorities reported today that the country's death toll had doubled to 12 overnight and the numbers of cases had risen to 1,280 from 1,059.
Meanwhile, in Switzerland coronavirus cases rose 25% to 6,100 and deaths rose to 56 in the past 24 hours, the Swiss health ministry said.
It also said hospitals in the canton of Ticino that borders on hard-hit Italy were under pressure.
"The situation in Ticino is very tense," said Daniel Koch, head of the Federal Office of Health's communicable diseases division.
The latest tally nationwide is up more than 1,200 cases in a day, while the deaths were up 13 from yesterday.
The Swiss military took delivery of 50 additional ventilators and deployed them in Ticino yesterday, amid a global race by countries to add more potentially life-saving breathing devices needed by critically ill patients to give them a fighting chance of survival.
Speaking at a press conference in Bern, Mr Koch said the 25% rise in Swiss cases in 24 hours did not come as a surprise, given Switzerland only this week heightened restrictions on events and gatherings, including limits on groups in public to five people, with each keeping a 2-meter distance, under threat of a fine.
Italy reported its worst single day yesterday, adding another 627 fatalities and taking its reported total to 4,032 despite government efforts to stem the spread.
Today, the death toll in the northern Italian region of Lombardy has risen by 546 in one day to 3,095.
The nation of 60 million now accounts for 36% of the world's coronavirus deaths and its death rate of 8.6 percent among those registered with infections is significantly higher than in most other countries.
France has been in lockdown since midday on Tuesday, with excursions from the home limited to buying food, visiting the doctor, walking the dog or going for a solitary jog in your own neighbourhood.
The measures came as the government mulled expanding the two-week home confinement imposed on all residents in a bid to brake the epidemic that has seen more than 9,000 infected with the virus in France, and 562 deaths.
The government of Romania has barred most foreigners from entering the country and tightened restrictions on movement inside the country to try to limit the spread of the coronavirus.
Exceptions would be allowed for those transiting through Romania using corridors to be agreed with neighbouring states, said interior Minister Marcel Vela, as well as diplomats, people who need to travel for work purposes, those who have immediate Romanian family and those in humanitarian need.
As of Saturday evening, dental clinics were closed, people were forbidden to attend church services and any public gathering of more than three people was also forbidden. Weddings and funerals are to be limited to eight people.
Between 10:00 pm and 6:00 am people are not to leave the house unless necessary for work reasons.
Romania has confirmed 367 cases of the novel coronavirus, but has so far reported no deaths.