French authorities do not have any grounds to believe the fire that destroyed Notre-Dame Cathedral in Paris earlier this year was the result of criminal action.
But the Paris prosecutor's office said they are investigating the possibility of negligence.
"If certain failings, which may explain the scale of the fire, have been brought to light, the investigations carried out to this date have not yet been able to determine the causes of the fire," prosecutor Remy Heitz said in a statement.
However, Mr Heitz added that an investigation had been opened into the possibility of negligence having caused the blaze.
A badly stubbed-out cigarette or an electrical fault could have started the blaze, the statement added.
The fire broke out on the evening of 15 April, gutting the roof of the cathedral.
Firefighters saved the main bell towers and outer walls of the Paris landmark from collapse before bringing the blaze under control.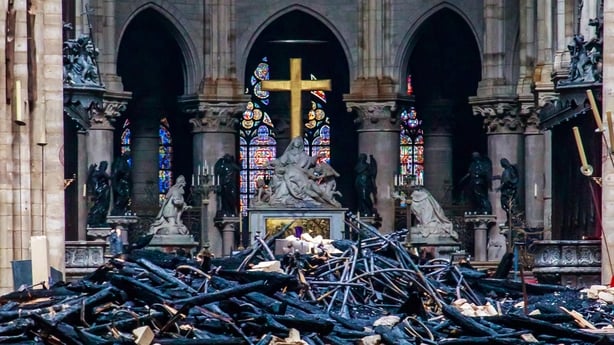 Prosecutors are examining many possible explanations "including a malfunctioning of the electrical system or a fire which started with a badly stubbed-out cigarette".
The preliminary conclusions are based on interviews with 100 witnesses.
But prosecutors emphasised the investigation had still not established the actual cause of the fire, adding that "deeper investigations, using significant expertise, will now be undertaken".
They said a preliminary investigation had now been opened, without targeting any single individual, over involuntary damage caused by negligence.
In April, a spokesman for scaffolding company Le Bras Freres, which had been involved in restoration work, admitted that workers had smoked on the site from time to time.
"We regret it," the spokesman said at the time, adding: "In no way could a cigarette butt be the cause of the fire at Notre-Dame."