The flagstones around Notre-Dame crunch underfoot. There is a layer of what looks like gravel, which on closer examination is a scattering of cinders. They reach the bridge at the Quai St-Michel, thrown far from the burning roof last night.
This charcoal - because that is what it is today - is the product of some of the 13,000 oak trees used to make the ceiling of Notre-Dame. Fifty-two acres of forest were cleared to make the roof. It took just nine hours to burn all that away on Monday night.
Firefighters at the scene surveyed the remaining stone structure. They have been highly praised for saving the belfries from the flames. The stained glass windows are still in place, but the scale of smoke and burn damage has yet to be counted.
The crowds pushing up against police barriers were a mixture of locals and tourists.
One Frenchman - a practising Catholic - tells me that this is like an injury to Paris's watchful grandmother. For tourists, there is sadness too but of a different kind. They will miss what may be their one chance to see the interior. There will never be another chance to see the original.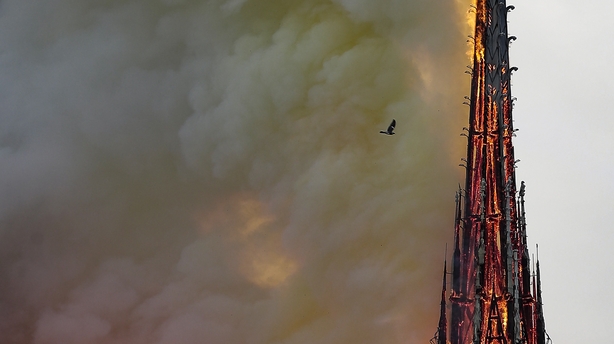 The auxiliary bishop of Paris, fielding media questions, tries to articulate the enormity of the blow this deals to him. Many artworks and relics were thankfully saved, but the building itself - a working church in which 2,000 masses a year are said - was to be used extensively in Easter week.
There is nothing for it but to focus on what can be salvaged. Solidarity is being called for. What rises from the ashes of Notre-Dame might well be something that is in short supply in France's political life at the moment: Unity of purpose in the Republic.
President Macron has been due to give a speech to address concerns around his government's handling of the gilets jaunes protests. Mistreatment of protesters, and even assault by one of the president's own aides, were driving a cold fury against the Élysée.
"If these early days of solidarity and unity survive that process, it will surely add another reason to consider Notre-Dame iconic"
The efforts to restore Notre-Dame could offer some respite from that.
There has been plenty of division already about the renovation of Notre-Dame. The church belongs to the French state, but it has been criticised for being unwilling to fund the upkeep of the building in full. This drove the Catholic Church to launch its own restoration initiative. It would be an awful irony if those efforts had led in any way to the destruction wrought last night.
There may be better coordination or burden-sharing when it comes to this latest restoration.
The 50 investigators whose task it is to find the cause of the blaze started work today, interviewing construction workers. There will be enormous public clamour for answers, to find who or what was to blame.
Arson is considered unlikely by Paris public prosecutor Remy Heitz. A technical report by forensic experts may answer some questions, but the question of who carries the can for the near loss of a national monument may also arise.
If these early days of solidarity and unity survive that process, it will surely add another reason to consider Notre-Dame iconic.