A French court has convicted the Catholic archbishop of Lyon of failing to act on historic allegations of sexual abuse of boy scouts in his diocese, handing Cardinal Philippe Barbarin a six-month suspended jail sentence.
Barbarin is the highest-profile cleric to be caught up in the child sex abuse scandal inside the Catholic Church in France.
He was found guilty of failing to report allegations of sexual abuse in the 1980s and early 1990s by a priest who is due to go on trial later this year.
Barbarin, 68, has said he will resign as Archbishop of Lyon and the victims and their families were in his prayers.
"I have decided to go to see the Holy Father to hand him my resignation. He will receive me in a few days' time," Barbarin told a news conference after the verdict.
"Independently from my own fate, I wish once again to stress my compassion for the victims," he said.
Barbarin "in all conscience" chose not to tell authorities about the abuse allegations "in order to preserve the institution to which he belongs", today's verdict read.
"By wanting to avoid a scandal caused by a priest's multiple sex offences, and probably in seeking to conform to inadequate decisions taken by bishops before him, Philippe Barbarin preferred to take the risk that justice would be unable to uncover a great number of victims of sexual abuse and prevent them from voicing their pain," it added.
Barbarin, who was not in court for the verdict, would contest the decision, his lawyers said.
"We'll see you here in a few months' time for an appeal," defence lawyer Jean-Felix Luciani told reporters outside the courtroom.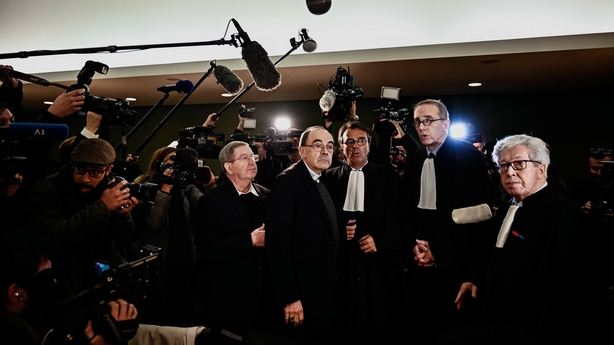 He also suggested that it had been difficult for the court "to resist pressure" from public opinion, which has long been debating the case. A feature film about the case has already hit cinemas.
Five former aides who were also on trial were all found not guilty, either because the alleged crimes were too old or unproven.
Barbarin had faced a maximum three years in prison and a fine of €45,000.
He denied concealing allegations that Fr Bernard Preynat abused dozens of boys more than a decade before he arrived in the Lyon diocese in 2002.
Preynat has admitted sexual abuse, according to his lawyer.
Lyon prosecutors had previously investigated Barbarin, but dropped the investigation in mid-2016 without a detailed explanation.
However, an association of alleged victims called Parole Liberee (Freed Word) used a provision of French law to compel the cardinal to stand trial.
"This will send a strong message to the church and to the Pope," said abuse victim Francois Devaux, applauding the verdict.
Barbarin's trial put Europe's senior clergy in the spotlight at a time when Pope Francis is under fire for the church's response to a sexual abuse crisis that has engulfed the institution and damaged its standing around the globe.
The pontiff last month ended a conference on clergy abuse of children by calling for an "all-out battle" against a crime that should be "erased from the face of the earth".
Victims and their advocates expressed deep disappointment, saying Pope Francis had merely repeated old promises and offered few new concrete proposals.
Barbarin told the trial he only became aware of Preynat's abuses in 2014 after a conversation with one victim.
Before that, he said, he had only heard rumours.
He removed Preynat from his post a year later, when allegations became public.
Two other senior French religious figures have been convicted of failing to report child abuse in the past: the archbishop of Bayeux-Lisieux, Pierre Rican, in 2001, and the former bishop of Orleans, Andre Fort, last year.
"I cannot see what I am guilty of," Barbarin had told the court at the start of the trial in January.
"I never tried to hide, let alone cover up these horrible facts." 
Preynat was first interviewed by church leaders in 1991 and was prevented from leading scout groups, but he was later allowed to teach children again and held positions of authority.