The gunman who killed three people in an attack on a Christmas market in Strasbourg on Tuesday has been killed during a police operation in the city.
The French Interior Minister said Cherif Chekatt was killed in the Neudorf/Meinau area of the city.
His death came after a police operation was launched around 9pm local time (8pm Irish time), about 2km from where he launched his attack on Tuesday.
Chekatt was killed after firing on police officers, who returned fire, a police source said.
Reuters reporters near the scene heard three to four gunshots after a huge police operation with armed forces from the BRI and RAID units. A police helicopter had been circling overhead.
The death toll from Tuesday's attack rose to three today after a wounded victim died, as police combed the city in the east of France for a second day and manned checkpoints on the German border.
Police issued a wanted poster in multiple languages for Chekatt, who was the main suspect in the attack and who had been on a watchlist as a potential security threat.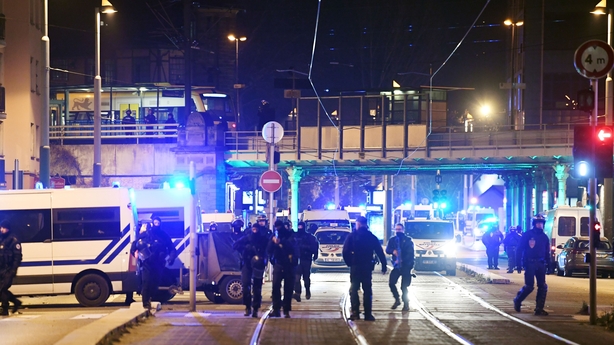 Earlier, elite officers from the RAID police unit fanned out along one street, some with their guns trained on the houses in front of them.
Other officers extended a security perimeter in the neighbourhood.
Three people died in the shooting, and another 13 are injured, with five of those still in critical condition, the local prefecture said in a statement.
France raised its security threat to the highest level.
Chekatt has 27 criminal convictions for theft and violence, and has spent time in French, German and Swiss jails. Authorities say the 29-year-old was known to have developed radical religious views while in jail.
The Islamic State jihadist group has claimed responsibility for the attack.
More than 700 police were involved in the search of Strasbourg, which lies on the west bank of the Rhine river, and the surrounding region.
Police set up checkpoints on the German border and questioning the suspect's associates.
Asked if police had been instructed to catch Chekatt dead or alive, government spokesman Benjamin Griveaux told CNews: "It doesn't matter. The best thing would be to find him as quickly as possible."
It took police four months to track down Salah Abdesalam, the prime surviving suspect from the November 2015 militant attack on Paris, in an apartment in Brussels.
Heavy security at the France-Germany border this afternoon as the manhunt for the Strasbourg Christmas Markets killer continues. Scores of police present with snipers lying in wait on roofs. Buses stopped, searches and passports checked pic.twitter.com/nZ6NhnUTaW

— Conor McMorrow (@ConorMcMorrow) December 13, 2018
Witnesses told investigators that the Chekatt cried out "Allahu Akbar" (God is Great) as he opened fire on the Christmas market, a target Paris Prosecutor Remy Heitz suggested may have been chosen for its religious symbolism.