Over 125,000 people have joined "yellow vest" anti-government protests across France today, in which more than 120 people were injured and almost 1,000 people arrested.
Police used tear gas, a water cannon and horses to charge protesters on roads fanning out from the Champs Elysees boulevard, but encountered less violence than a week ago, when the capital witnessed its worst unrest since the 1968 student riots.
As night fell and many demonstrators started returning home, Interior Minister Christophe Castaner said there had been about 10,000 protesters in Paris by early evening and some 125,000 across the country.
Bordeaux, Lyon, Toulouse and other cities also saw major clashes between protesters and police.
"The situation is now under control," Mr Castaner said at a joint news conference with Prime Minister Edouard Philippe.
He said about 120 demonstrators and nearly 20 police officers had been injured nationwide.
Nearly 1,000 people had been arrested, 620 of them in Paris, after police found potential weapons such as hammers and baseball bats on them.
Mr Philippe said police would remain vigilant through the night as some protesters continued to roam the city.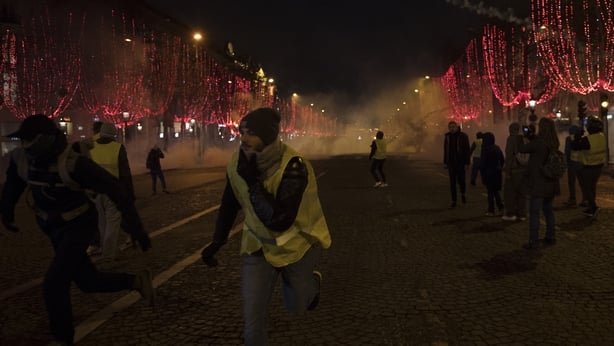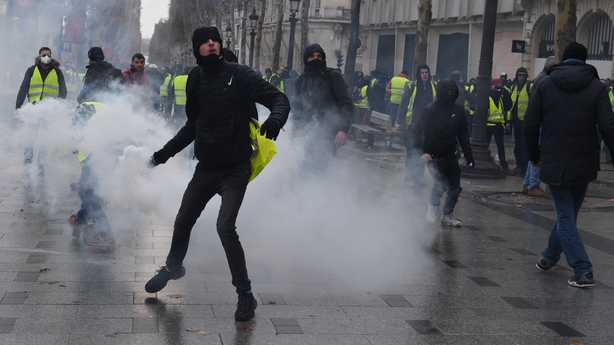 Groups of youths, many of them masked, continued skirmishing with police in the Place de la Republique area as some stores were looted.
Named after the fluorescent safety vests that French motorists must carry, the "yellow vest" protests erupted out of nowhere on 17 November when nearly 300,000 demonstrators nationwide took to the streets to denounce high living costs and French President Emmanuel Macron's liberal economic reforms.
Demonstrators say the reforms favour the wealthy and do nothing to help the poor and billed the demonstration "Act IV" of their protest after three consecutive Saturdays of rioting.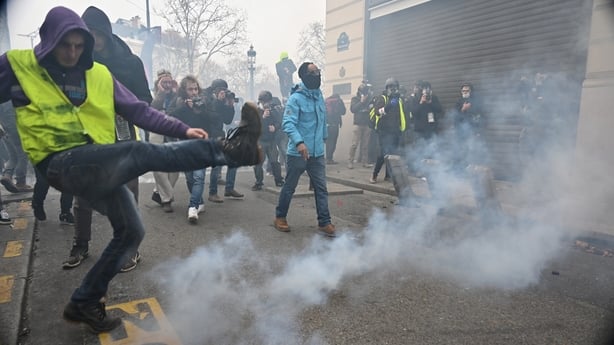 The government this week cancelled a planned rise in taxes on petrol and diesel in a bid to defuse the situation but the protests have morphed into a broader anti-Macron rebellion.
The protests are jeopardising a fragile economic recovery in France just as the Christmas holiday season kicks off.
Retailers have lost an estimated one billion euro in revenue since the protests erupted and shares in tourism-related shares saw their worst week in months.
Swathes of Paris' affluent Right Bank north of the Seine River were locked down, with luxury boutiques boarded up, department stores closed and restaurants and cafes shuttered.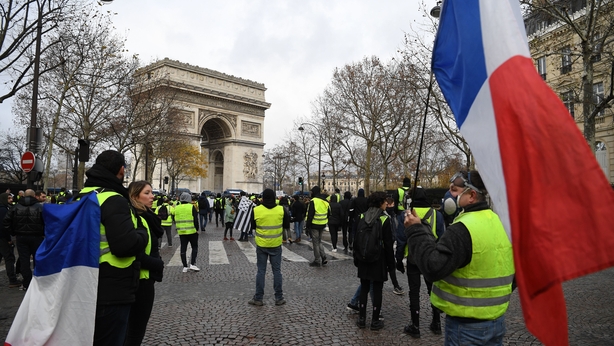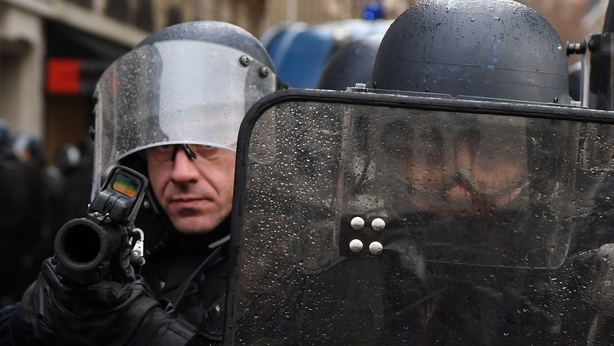 We need your consent to load this rte-player contentWe use rte-player to manage extra content that can set cookies on your device and collect data about your activity. Please review their details and accept them to load the content.Manage Preferences

The Louvre, Eiffel Tower and the Paris Opera were also closed.
Demonstrators left a trail of destruction on Paris streets, with bank and insurance company offices' windows smashed, cars and scooters set on fire and street furniture vandalised.
On the smashed front of one Starbucks cafe, vandals had scrawled: "No fiscal justice, no social justice."
The government had warned that far-right, anarchist and anticapitalist groups would likely infiltrate protests and many of the skirmishes saw police tackling gangs of hooded youths, some of them covering their faces with masks.
The government this week offered concessions to soothe public anger, including scrapping next year's planned hikes to fuel taxes in the first major U-turn of Mr Macron's presidency.
It will cost the Treasury €4 billion.
But protesters want Macron to go further to help hard-pressed households, including an increase to the minimum wage, lower taxes, higher salaries, cheaper energy, better retirement benefits and even Mr Macron's resignation.
Mr Macron is expected to address the nation early next week to possibly further soften planned reforms and tax increases.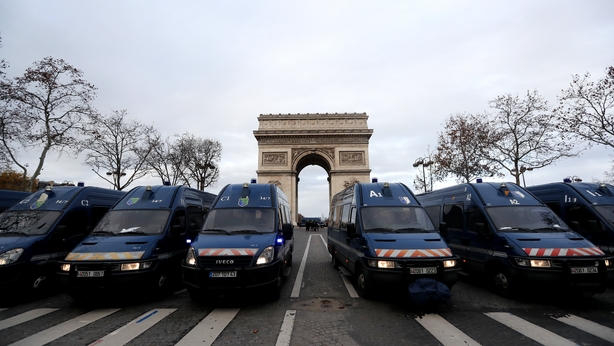 'Yellow vest' arrests in Belgium
Around 70 people were arrested in Brussels during copycat "yellow vest" demonstrations rocking neighbouring France, police said.
The area housing European institutions including the offices of the European Commission and the European Parliament was sealed off as a precautionary measure. 
Police put up barricades there and both vehicles and pedestrians were denied access.
The protesters gathered in two districts of the city - Arts Lois and Porte de Namur - but there were no incidents of violence.
"There have been around 70 arrests following checks carried out as a preventive measure," Brussels police spokeswoman Ilse Van De Keere told AFP.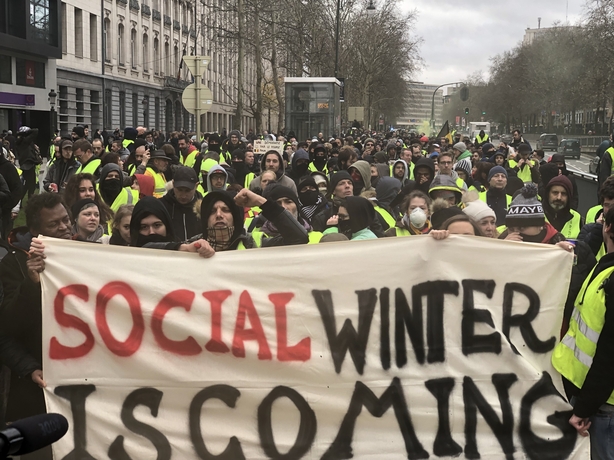 According to Belga news agency, young protesters blocked a highway linking Brussels to the town of Rekkem in Flanders, located near the French border.
They also put up a barricade near the Franco-Belgian border close to Adinkerque, Belga said.
The "yellow vest" movement in France originally started as a protest about planned fuel hikes but has morphed into a mass protest against President Emmanuel Macron's policies and top-down style of governing. 
It has spilled over to some other countries, including Belgium and especially in the country's French-speaking region.
On 30 November, a "yellow vest" protest by some 300 people in Brussels degenerated into violence in which two police vehicles were torched.