Over 700 firefighters are battling a forest fire in southern Portugal, as temperatures climbed to near record highs in the Iberian Peninsula amid a Europe-wide heatwave.
Seeking to prevent more deaths after 114 people were killed in two massive forest blazes last year in Portugal, civil protection sent mobile text alerts warning the population of an extreme risk of fires in some regions, including around the capital Lisbon.
In Greece, a wildfire killed 91 people last month.
In the coastal resort area of Cascais, outside Lisbon, a power network overload due to heavy use of air conditioning caused a blackout last night, leaving tens of thousands of people without power for several hours and shutting a large shopping mall.
In Lisbon, temperatures reached 43C yesterday.
The blaze began today in the hilly Monchique area of the southern Algarve region, popular with tourists.
Authorities evacuated two villages in the area and ten water-carrying aircraft were being used to fight the flames.
Hot air from north Africa has caused the most severe heatwave in Iberia since 2003, one of the worst years on record for forest fires.
Temperatures in Spain and Portugal will remain above 40C at least until tomorrow, with the IPMA weather service expecting 47C in Santarem in central Portugal later on today, just below Europe's record high of 48C, set in Athens in 1977.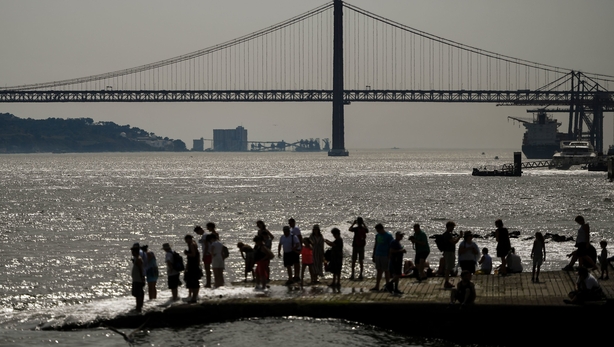 The previous record highs in both Spain and Portugal were just over 47C.
Portuguese weather forecasters said the hot air from North Africa also brought particles of sand, which tend to subdue maximum temperatures slightly.
Three men died this week in Spain as a result of soaring temperatures.
Two died of heatstroke in the southeastern region of Murcia, Spanish radio Cadena Ser reported, while another man died in Barcelona yesterday, emergency services said.
The Spanish military assisted emergency services fighting a wildfire in Nerva, southern Spain, on Friday and Saturday, but the blaze was now stabilised, emergency services said.