The people of Catalonia cannot accept the "illegal" measures taken by the Spanish government to rule the region directly from Madrid, Catalan leader Carles Puigdemont said today, as he called on the regional parliament to act against them.
Mr Puigdemont said the decision by Prime Minister Mariano Rajoy to fire the regional government and force a new election, which will be effective next Friday, was "the worst attack against the institutions and the people of Catalonia since the military dictatorship of Francisco Franco".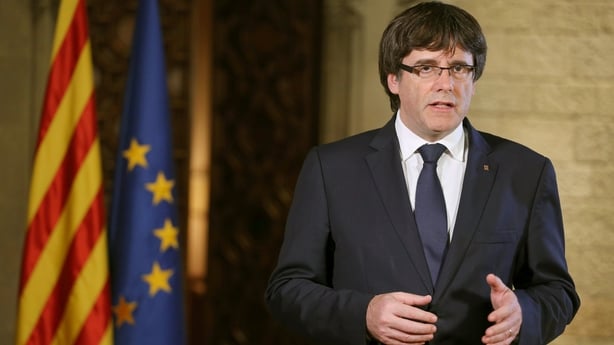 "I ask the parliament to meet in a plenary session during which we, the representatives of the citizens' sovereignty, will be able to decide over this attempt to liquidate our government and our democracy and act in consequence," Mr Puigdemont said in a televised speech.
Hundreds of thousands of independence supporters protested in Barcelona this afternoon, shouting "freedom" and "independence" after Madrid announced the drastic measures to stop the region from breaking away.
Speaking after an emergency cabinet meeting this morning, Prime Minister Mariano Rajoy said his government had no choice after the administration of Catalan leader Carles Puigdemont acted in a way that was "unilateral, contrary to the law and seeking confrontation" in holding a banned independence referendum.
We need your consent to load this rte-player contentWe use rte-player to manage extra content that can set cookies on your device and collect data about your activity. Please review their details and accept them to load the content.Manage Preferences
Taking Spain into uncharted legal waters by using Article 155 of the constitution, which allows Madrid to wrest back control of rebellious regions, Mr Rajoy said he was asking the Senate to give him permission to dissolve the Catalan parliament and "call elections within a maximum of six months".
He is also requesting that all of Mr Puigdemont's government be stripped of their functions, which "in principle will be carried out by (national) ministers for the duration of this exceptional situation".
---
Read More:
---
The national Senate will now have to agree to these unprecedented steps - a process that will take about a week.
Mr Rajoy's conservative Popular Party holds a majority in the Senate.
As the measures enjoy the support of other major parties, they are highly likely to pass.
Catalonia sparked Spain's worst political crisis in decades with the chaotic referendum on 1 October, which Mr Puigdemont said resulted in a 90% vote in favour of breaking away from Spain.
But turnout was given as 43% as many anti-independence Catalans stayed away from the vote, which had been ruled illegal by the Constitutional Court, while others were hindered from voting by a police crackdown.
Spain's Constitutional Court ruled earlier this week that Catalonia's referendum law violated Spain's democratic constitution of 1978, which gave wide autonomy to the country's regions but affirmed "the indissoluble unity of the Spanish nation".
The constitution was approved by more than 90% of Catalan voters.