French President Emmanuel Macron has proposed creating a single EU corporate tax band by 2020, saying members who refused to implement it should have their aid from Brussels cut.
In a key speech in Paris the French leader said the tax band would "condition access to the European Cohesion Fund", adding: "You cannot benefit from European solidarity while going against the others."
Mr Macron offered a sweeping vision for a renewal of Europe in his speech, calling for the EU to cooperate more closely on defence, immigration, tax and social policy, and for the single currency bloc to have its own budget.
His speech comes two days after the German election, which saw Chancellor Angela Merkel's alliance do less well than expected, limiting her freedom to manoeuvre on Europe.
As he set out his ambitious proposals for the EU, Mr Macron also said that Britain could yet have a place in the bloc.
Calling for a more effective, less bureaucratic EU, the French president said: "In a few years, if they want, the United Kingdom could find its place... In this reformed and simplified EU that I'm proposing, I can't imagine that the United Kingdom could not find its place."
Speaking at the Sorbonne, Mr Macron portrayed Europe as needing to relaunch itself, saying that on issues as diverse as asylum, border protection, corporate tax, intelligence sharing, defence and financial stability it needed to forge deeper cooperation.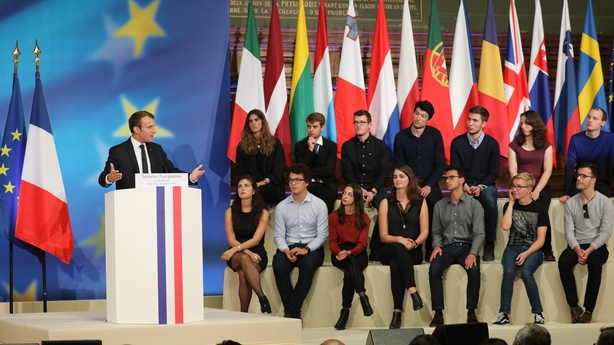 "The only path that assures our future is the rebuilding of a Europe that is sovereign, united and democratic," the former investment banker and philosophy student said in his opening remarks, flanked by a French and a European Union flag.
"At the beginning of the next decade, Europe must have a joint intervention force, a common defence budget and a joint doctrine for action."
In his campaign for the presidency, Mr Macron made European reform a central plank and both he and Ms Merkel have in recent months spoken often about their desire for France and Germany, the EU's two largest economies, to take the lead on integration.
But less than five months into his five-year term, Mr Macron faces the threat that Ms Merkel has less capacity to move than either would have hoped.
Her CDU/CSU alliance is still the largest bloc in the Bundestag, but to build a working majority she will likely have to form a coalition with the liberal Free Democrats, who are opposed to many of Mr Macron's ideas, and the Greens.