Catalan official says 13 dead - 100 injured
Police say incident is a terrorist attack
Neither of two men arrested were drivers of the van
Van struck crowd on Las Ramblas 
A Catalan government official has said 13 people were killed and over 100 injured after a van crashed into a crowd of people on Las Ramblas, in what police described as a terrorist attack.
An Irish family-of-four holidaying in Barcelona were among those injured.
The couple, originally from the Philippines but naturalised Irish citizens and their two children who were born in Ireland, were caught-up in the attack. Their injuries are not believed to be life-threatening.
The incident occurred shortly after 5pm local time.
Catalan police have said that two men who were arrested after the attack were connected to the incident, but neither were the driver of the vehicle. 
The driver of the van left the vehicle on foot and did not appear to be armed, a police official told a news conference. 
Police also said that the attack "clearly intended to kill as many people as possible".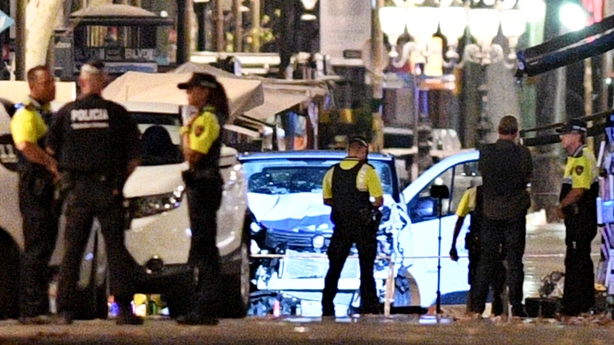 They said that one of the two men arrested was Moroccan and the other was from the Spanish enclave of Melilla in North Africa. They were arrested in two different towns in the region of Catalonia, Ripoll and Alcanar.
Separately, police said that the van attack appeared to be linked to an explosion at a house in Alcanar in the early hours of this morning in which one person died and another was injured.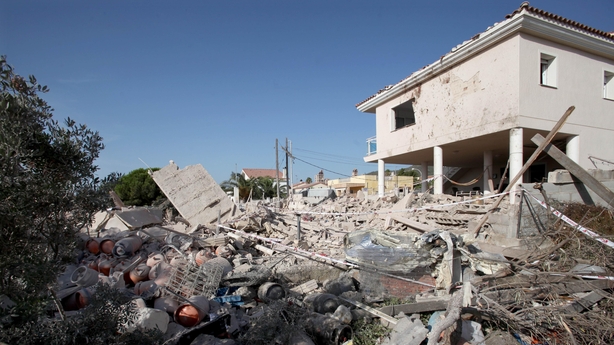 Police at the news conference also confirmed that another man who ran over two officers at a checkpoint in Barcelona was shot dead, but added that it did not appear that the incident was linked to the van attack.
Belgium's deputy Prime Minister Didier Reynders said on twitter that a Belgian national is among the dead.
He told Belgian media that the victim was a woman.
"I offer my condolences to her family and loved ones," Mr Reynders tweeted.
Witnesses said the van zigzagged down one of Barcelona's busiest tourist avenues, Las Ramblas, mowing down pedestrians and leaving bodies strewn across the ground.
A handout photo made available by Spanish National Police shows Driss Oukabir who is alleged to have rented the van used in the attack.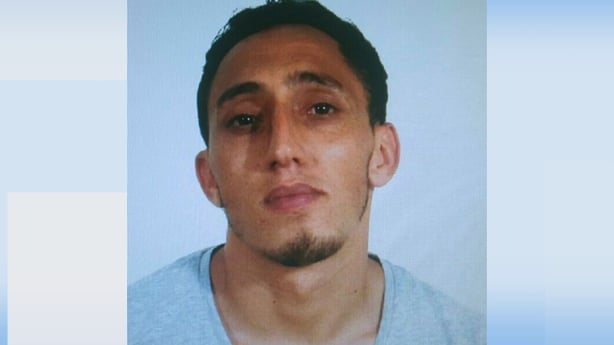 Vehicles have been used to ram into crowds in a series of terror attacks across Europe since July 2016.
Prime Minister Mariano Rajoy said on Twitter he was en route to Barcelona.
"Maximum coordination to arrest the attackers, reinforce security and attend to all those affected," he said.
Mobile phone footage showed Paramedics and bystanders bent over people lying on the ground, treating them and trying to comfort those still conscious.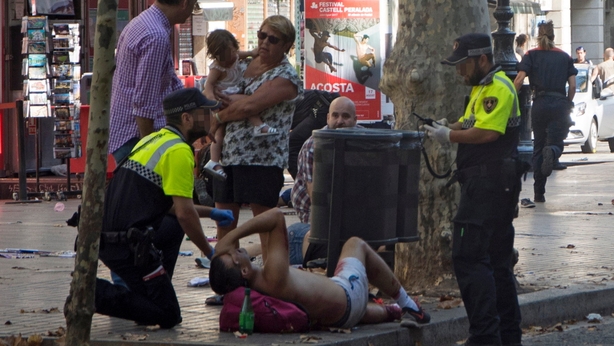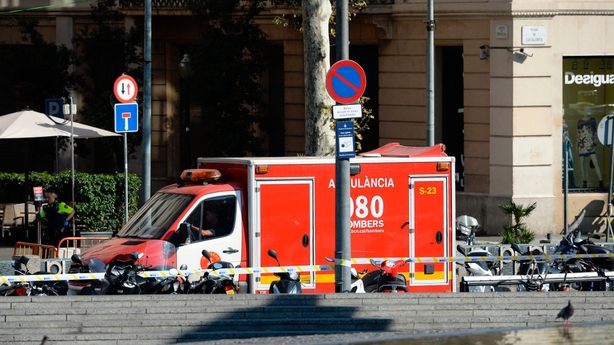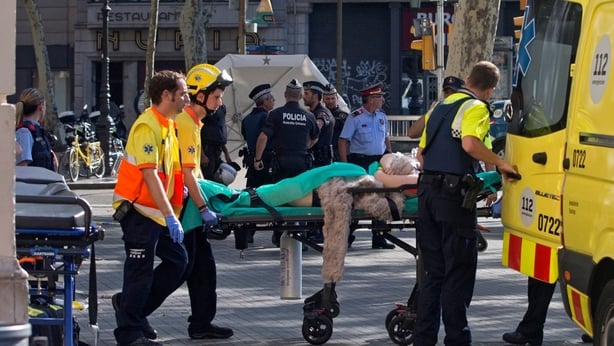 ---
Read More: 
---
Around them, the boulevard was deserted, covered in rubbish and abandoned objects including hats, flip-flops, bags and a pram.
"We saw a white van collide with people. We saw people going flying," holidaymaker Ellen Vercamm told El Pais newspaper.
An eyewitness named Rebecca told La Vanguardia: "I've seen a lot of people knocked down on the floor and the people are running and crying. The van drove down the middle of the street dragging everyone with it."
The incident took place at the height of the tourist season in Barcelona, which is one of Europe's top travel destinations with at least 11 million visitors a year.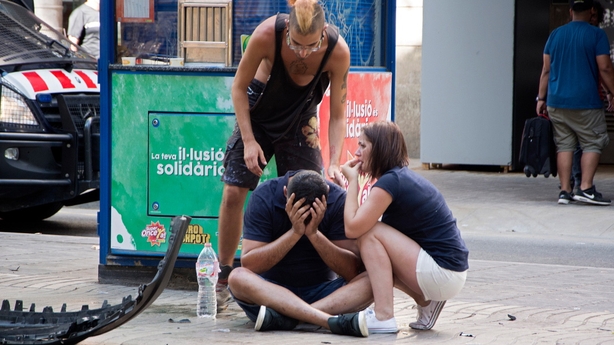 Authorities in Vic, a small town outside Barcelona, said a van had been found there in connection with the attack.
Spanish media had earlier reported that a second van had been hired as a getaway vehicle.
Following the attack, security staff at Barcelona airport suspended a strike that started in early August. "Our work is now more necessary than ever," a spokesman said.
It was the deadliest attack in Spain since March 2004, when Islamist militants placed bombs on commuter trains in Madrid, killing 191 people and wounding more than 1,800.
The so-called Islamic State said this evening that it was behind the attack.
La @barcelona_GUB busca al agresor, arma en mano, dentro @la_boqueria #Barcelona https://t.co/RLdVRQInJ7 pic.twitter.com/vHj3LwYpWC

— Alfonso Congostrina (@alfcongostrina) August 17, 2017
The Department of Foreign Affairs says it is monitoring developments in Barcelona.

Anyone with concerns for the safety of loved ones in the city can contact the Consular Assistance team in the department on 01-4082000 or the Irish Embassy in Madrid on +34 914364093.
Our advice for anyone in #Barcelona remains that you should follow the instructions of the local authorities on the ground @dfatravelwise

— IrelandEmbassyMadrid (@IrlEmbMadrid) August 17, 2017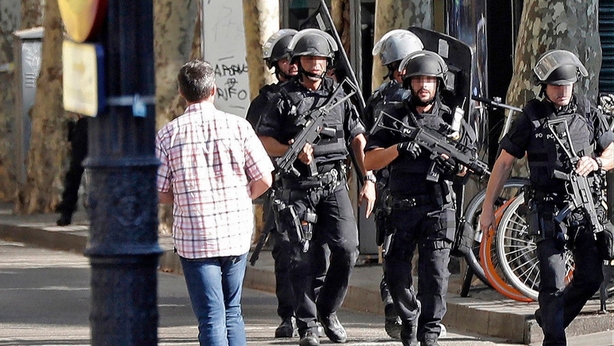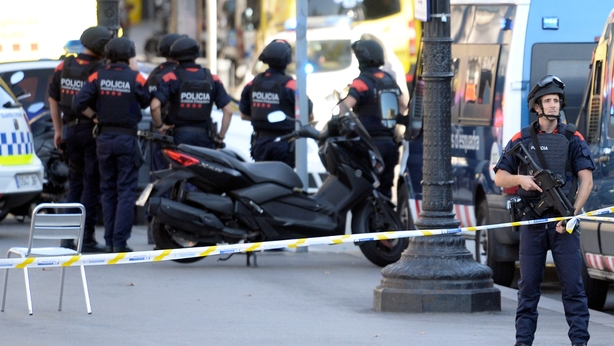 Irishwoman Alana Fearon is in Barcelona on holiday and was sitting outside a restaurant on La Ramblas when the incident occurred.
Ms Fearon, who is the editor of Dublin Live, described seeing tourists "suddenly" running, and up to 13 police vans speeding along the road.
A police officer, using a mega phone, instructed everyone to get inside.
She told RTÉ News that restaurant staff brought people inside and shutters were pulled down.
She said and other tourists remained locked in the premises for up to an hour before being allowed leave.
Irishwoman Alana Fearon is on holiday in Barcelona and describes the aftermath of the terrorist attack in the city centre pic.twitter.com/y9CT0AAzug

— RTÉ News (@rtenews) August 17, 2017
Aamer Anwar was walking down Las Ramblas at the time, which he said was "jam-packed" with tourists.
He told Sky News: "All of a sudden, I just sort of heard a crashing noise and the whole street just started to run, screaming. I saw a woman right next to me screaming for her kids.
"Police were very, very quickly there, police officers with guns, batons, everywhere. Then the whole street started getting pushed back."
Can't believe this I'm on Ramblas, heard screaming & whole street ran- a car believed drove in2crowd- had walked down 10secs earlier pic.twitter.com/LPGBCYupfv

— Aamer Anwar (@AamerAnwar) August 17, 2017
Mr Anwar described the scene as "chaos", with everyone in "panic mode".