Firefighters are battling to contain a wildfire near Athens after it spread overnight to three towns 45km northeast of the Greek capital and damaged dozens of homes.
The blaze broke out around yesterday afternoon in Kalamos, a coastal holiday spot northeast of Athens and quickly spread, fanned by strong and changing winds.
A state of emergency was declared in the area as the blaze burned pine forest and thick smoke billowed above.
By this afternoon, the fire's perimeter had expanded to "dozens of kilometres" authorities said, and the smell of smoke hovered over central Athens.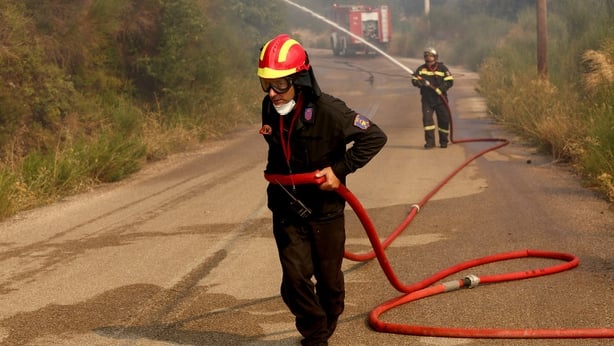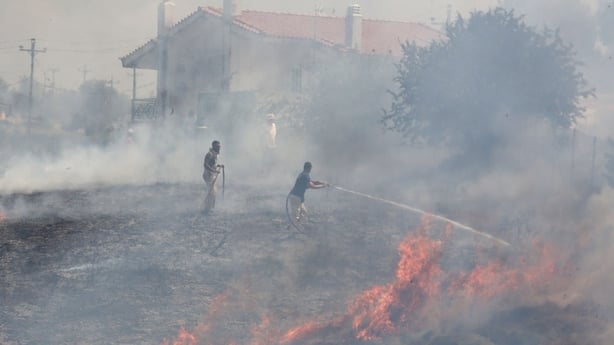 More than 200 firefighters with five dozen fire engines, four water-dropping helicopters and one plane tackled the blaze, but a rugged terrain dispersed with small communities is making the fire-fighting task difficult, the fire brigade said this afternoon.
Authorities have ordered a precautionary evacuation of two youth camps and homes in the area, and evacuated a monastery fter flames briefly reached its fence this morning.
Hundreds of residents fled the area of Kalamos, heading to the beach to spend the night.
"It was a terrible mess, that's what it was. You could see homes on fire, people running, people desperate, it was chaos and the fire was very big," a resident told Reuters TV.
Andreas Theodorou, a local councillor, said the blaze had damaged "several dozens of homes".
More than 90 forest fires have been recorded in the past 24 hours across the country, with the most serious fronts near Athens, in the Peloponnese and on the Ionian islands of Zakynthos and Kefalonia in western Greece.
"It's arson according to an organised plan," Justice Minister Stavros Kontonis, who is also the MP for Zakythnos, told state TV when asked to comment on the dozen fires burning on the island in the past two days.
"There is no doubt about it."
The cause of the wildfires is not known but summer blazes are common in Greece.
More than 70 died in 2007 during the worst fires in decades.