Insecticide-tainted eggs from European poultry farms have been found in Hong Kong and Switzerland as well as 15 EU countries, the European Commission has said.
The European Commission said all had received eggs contaminated with the pesticide fipronil, adding that a meeting of EU ministers to discuss the scandal had been provisionally scheduled for 26 September.
"We would like this meeting to happen with some distance to the events and have as many facts established as possible," European Commission spokeswoman Mina Andreeva told a press conference.
"This is not, let's be clear, a crisis meeting," she said.
The EU countries affected are Ireland, Belgium, the Netherlands, Germany, France, Sweden, Britain, Austria, Italy, Luxembourg, Poland, Romania, Slovakia, Slovenia and Denmark, along with non-EU Switzerland, and Hong Kong, commission spokesman Daniel Rosario said.
We need your consent to load this rte-player contentWe use rte-player to manage extra content that can set cookies on your device and collect data about your activity. Please review their details and accept them to load the content.Manage Preferences
Farms had been shut down in four countries - Belgium, Netherlands, Germany and France - where authorities have confirmed the illegal use of the substance to treat poultry farms, Mr Rosario said.
The other countries - plus non-EU Switzerland and Hong Kong - received exports from the four countries.
Millions of eggs and egg-based products have been pulled from European supermarket shelves since the scare went public on 1 August and there are growing questions about who knew what, and when.
Fipronil is commonly used to get rid of fleas, lice and ticks from animals but is banned by the European Union from use in the food industry.
The World Health Organization says that when eaten in large quantities it can harm people's kidneys, liver and thyroid glands.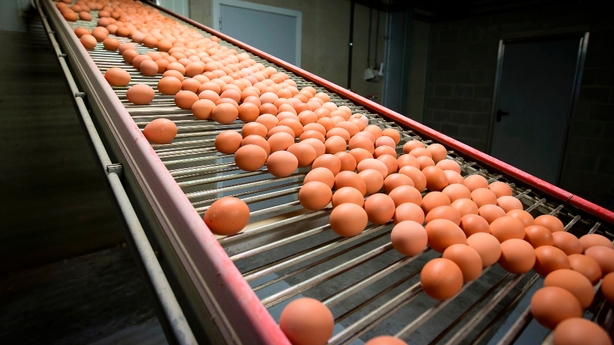 Earlier, French Agriculture Minister Stephane Travert said nearly 250,000 tainted eggs were sold in France since April.
A first batch of 196,000 eggs, imported from Belgium, was distributed between 16 April and 2 May, and was followed by a second batch of 48,000 Dutch eggs sold by the discount retailer Leader Price between 19 and 28 July he said.
"The risk for human health is very low, given the levels of fipronil detected in the contaminated eggs, but also given French habits of food consumption," Mr Travert added.
The French farm ministry said most of the eggs have already been eaten.
Yesterday, the Department of Agriculture said that no eggs imported into Ireland have tested positive for fipronil.
It said that it carries out tests on egg samples for the insecticide as part of its annual residue testing programmes.
Denmark also said that it had been affected, announcing that 20 contaminated tonnes of eggs imported from Belgian suppliers had been sold there.
Dutch and Belgian investigators carried out coordinated raids on several premises yesterday, arresting two people at a Dutch firm believed to be at the centre of the crisis.
The food scare is one of the biggest to hit Europe since the 2013 horse meat scandal when equine meat was falsely labelled and sold as other kinds of meat.
The Irish Farmer's Assocation's National Poultry Chairman has said that he would like to assure consumers that eggs sold in all major retailers in Ireland are of very high production and traceability standards.
Speaking on RTÉ Drivetime, Nigel Renehan said the food services sector is responsible for importing any contiminated eggs, which, he said, would have been in processed foods.
He said people should look for the Bord Bia logo on their eggs.