Protesters injured at least 160 police officers, torched cars and lorries and broke into a locked-down metro station today, seeking to wrest control of the streets of Hamburg as leaders from the world's biggest economies met nearby.
The escalating violence prompted Hamburg's police to call in reinforcements from around Germany to help the 15,000 officers already deployed to the northern port city for the G20 summit.
A witness said protesters from the radical Black Bloc movement appeared to be trying to reach the city's riverside Elbphilarmonie concert hall, where leaders such as US President Donald Trump were due to attend a concert later.
The Black Bloc movement, which wants to overthrow capitalism, had some success in disrupting the leaders' discussions despite the ring of steel that surrounded them.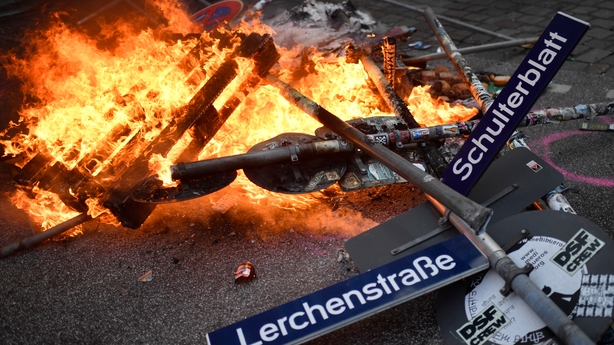 German Finance Minister Wolfgang Schaeuble cancelled an appearance in downtown Hamburg this morning due to security concerns. Police also declined to clear US First Lady Melania Trump's motorcade to leave her hotel to join in a tour of the city's historic harbour, her spokeswoman said.
"Thinking of those hurt in #Hamburg protests. Hope everyone stay safe!" the US president's wife tweeted afterwards.
Marine police units intercepted 22 divers from the environmental pressure group Greenpeace who had also been trying to reach the concert hall, police said.
German Chancellor Angela Merkel, host of the summit, condemned the violence.
"I have every understanding for peaceful demonstrations, but violent demonstrations put human lives in danger," she said.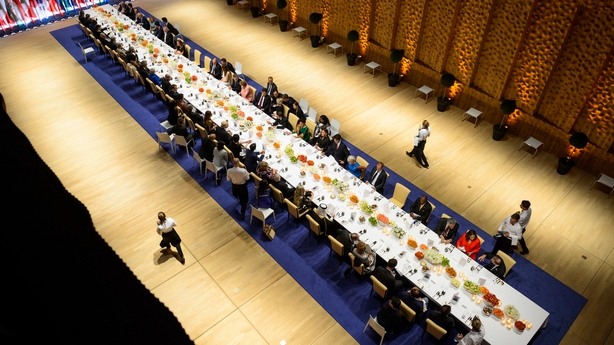 Police said they used water cannon to disperse protesters who broke into a riverside metro station that had earlier been sealed off. Nearby, two lorries were set ablaze.
Three officers required treatment in hospital, police said, noting that protesters had used slingshots as well as thrown bottles and stones. At least 70 people were detained and 15 were taken into custody, police said.
Earlier today, Ms Merkel pressed her fellow G20 leaders to compromise on climate and trade that have pitted Mr Trump against virtually every other country in the club of leading economies.
The host of the G20 summit addressed her counterparts in a hall at the Hamburg convention centre.
Ms Merkel was shown talking casually with Russian President Vladimir Putin as the leaders entered the hall, then joining French President Emmanuel Macron in a three-way discussion with Mr Trump, who was seated between Chinese leader Xi Jinping and British Prime Minister Theresa May.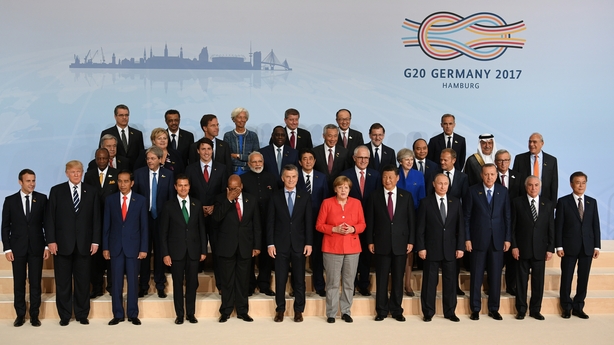 "We all know the big global challenges and we know that time is pressing," Ms Merkel told the group.
"And so solutions can only be found if we are ready for compromise and move towards each other, but without - and I stress this - bending too much, because of course we can also state clearly when there are differences."
Mr Trump later held bilateral talks with Mexican President Enrique Pena Nieto and Mr Putin.
The meeting with the Russian leader is drawing intense scrutiny because of Mr Trump's election campaign pledge to seek a rapprochement with Moscow.
So far he has been unable to deliver on that promise amid accusations from US intelligence services that Russia meddled in last year's presidential election and investigations into the Trump campaign's links to the country.
Ms Merkel, who is gearing up for a parliamentary election in September, faces the daunting task of steering the G20 towards a consensus on trade, climate change and migration - all issues that have become more contentious since Mr Trump entered the White House promising an "America First" approach.
Last month he pulled the United States out of a landmark international agreement aimed at combating climate change.
And he is threatening to take punitive trade measures in the steel sector which would hit China, Germany, Canada and a host of other countries.
Earlier, leaders of the BRICS countries - Brazil, Russia, India and China - called on the G20 to push for implementation of the Paris climate deal despite Mr Trump's decision to pull out.