A man of Islamist background has been detained by German investigators investigating explosions at a bus carrying players of Borussia Dortmund soccer club, the federal public prosecutor's office has said.
It said investigators had searched the apartments of two suspects from Germany's Islamist scene and detained one of them.
It did not say where the suspect was detained but added that a decision would be made on whether to seek a judicial arrest warrant against him.
The prosecutor said metal strips had been used in the explosive devices activated in the attack, which injured one player and is being treated as having a "terrorist background".
"The precise motive for the attack is unclear at present," the prosecutor's office said in a statement.
Earlier, it was reported that a letter found at the scene of the explosions referred to the Berlin Christmas market attack.
The letter also mentioned Germany's deployment of Tornado reconnaissance missions as part of an international coalition battling the so-called Islamic State group, according to the daily Sueddeutsche Zeitung, regional broadcasters NDR and WDR and national news agency DPA, which did not name their sources following last night's incident.
Windows on the bus were broken in the attack, in which three explosions went off at 7.15pm local time near the hotel where the team was staying.
Spanish defender Marc Bartra was injured and the Champions League clash with AS Monaco was postponed until tonight.
Bartra, 26, was operated on for a broken bone in his right wrist and shrapnel in his arm, a team spokesman said.
The blasts revived memories of Islamist militant attacks in Paris in November 2015 whose targets included a stadium where France were playing Germany in a football friendly.
Security is among the issues at the heart of Germany's parliamentary election on 24 September, a tight battle in which Chancellor Angela Merkel is running for a fourth term.
In December, in an IS claimed attack, a Tunisian man killed 12 people when he ploughed a truck through a Berlin Christmas market.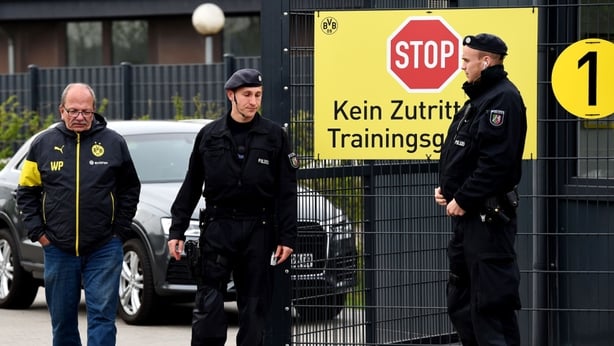 A spokesman for Ms Merkel this afternoon said: "The chancellor was last night, like people in Dortmund, like millions everywhere, appalled by the attack on the BVB team bus."
Steffen Seibert told a government news conference: "One can only be relieved that the consequences were not worse," he said, praising Dortmund fans for lodging AS Monaco fans after their Champions League match was postponed until this evening.

Mr Seibert added that investigators were doing everything in their power to track down the perpetrator, or perpetrators.