"Devastated" is the word used by Lal Pierce to describe how she and her husband Willie feel about the ongoing changes to the coastline underneath their house at Ballyhealy on the Wexford coast.
Changes which threaten the house's very existence as erosion continues on this and other vulnerable sections of our coastline.
The house has been in the Pierce family for over 200 years and saw generations grow up within its walls and within sight of the sea, with Lal and Willie now the last to occupy the property.
"It's been eating away all the time, you know, it's been eating away for years," Willie Pierce explains of the damage being caused to the beach and the land by the sea, which has seen a roadway and fields literally disappearing.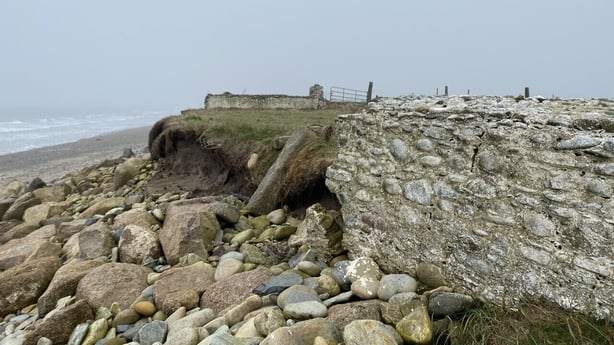 "Back in 1934 when my father came here there were two fields here in front of the house… that's gone now. Huge change."
They have put down rocks in front of their property to try to stave off the march of nature and that step has slowed down the process at a cost of thousands.
"It looks as if things are going to be left the way they are now," Lal Pierce said, adding that the council have told them they won't be able to help out with any further protection works because funding isn't available from the OPW on a cost-benefit basis.
She said: "We are devastated by the whole thing, you know, because that house is there for about 200 or more years old and Americans that went out of here, their children and grandchildren are still coming here."
Coastal erosion is one of the consequences, worldwide, of ongoing climate change because of the global warming which leads to melting icecaps and, therefore, rising sea levels.
As coastal engineer with Wexford County Council George Colfer explains, it's going to be a particular issue in certain regions.
He says: "One of the factors of climate change is sea level rise and that's going to lead to increased risk of erosion, particularly to a coast like Wexford which is very vulnerable and prone to coastal erosion.
"In Wexford, we've 260 kilometres of coastline. About 80% of that, 200 kilometres, is vulnerable to coastal erosion so one of the key messages I would say here is that we monitor coastal erosion, particularly after severe weather events."
There are several stretches of the Wexford coastline which have been, and will be, affected by such erosion.
They include the Drinagh area near St Margaret's close to Carne which is always a popular spot with visitors as well as locals.
Michael Law grew up along the coastline and remembers a different landscape.
"There have been big changes because when we were young playing on these beaches, you could never see Carne Harbour," he recalls.
Mr Law says: "But now on the beach, you walk along and you can see Carne, all of Carne Harbour, from the beach. Every time at night the tide is coming right up to the bank and hitting the back of the bank and digging away at the sand dunes and pulling it out and then the sand dunes are rolling down all the time.
"In our lifetime, we've definitely lost about 60ft or 80ft of land from here, getting closer back to the cottage.
He is afraid for the future of the cottages in the area as well as farming. "It's a shame to see that happening because it's so beautiful here."
Local farmer and resident Pádraig Power said he also has fears for the future of the area.
"My fears would be for the houses, foremost here, and for the land behind me and all the farms, my farm, the farm beside me, that in 20 years' time they will be just under water.
"It's just getting frightening at the moment, there's that much going."