The level of air pollution from traffic last year in Ireland was down on previous years due to the impact of Covid-19 restrictions, according to a new report from the Environmental Protection Agency.
However, the EPA said that levels of sulphur dioxide and ozone were above the air quality guidelines specified by the World Health Organization, due to the burning of solid fuel for home heating.
EPA monitoring showed that Ireland was compliant with EU legal limits in 2020, largely assisted by the significant reduction in traffic due to Covid-19 restrictions.
Air pollution from traffic - nitrogen dioxide (NO2) - fell at all monitoring stations, but most notably at urban-traffic locations where levels fell by up to 50%.
However, air quality levels were above the WHO's stricter guideline values at 52 monitoring stations, largely due to the burning of solid fuel.
We need your consent to load this rte-player contentWe use rte-player to manage extra content that can set cookies on your device and collect data about your activity. Please review their details and accept them to load the content.Manage Preferences
The report - 'Air Quality in Ireland' - estimated that there are 1,300 premature deaths in Ireland each year because of pollutants arising from the burning of coal, turf and wood.
The EPA said that levels of this pollutant are of growing concern and are particularly high during the winter months, when people's use of solid fuels such as coal, turf and wood impacts negatively on-air quality, especially in villages, towns and smaller cities.
The report noted that any movement towards cleaner home heating choices and less smoky solid fuel choices will result in a subsequent improvement on air quality.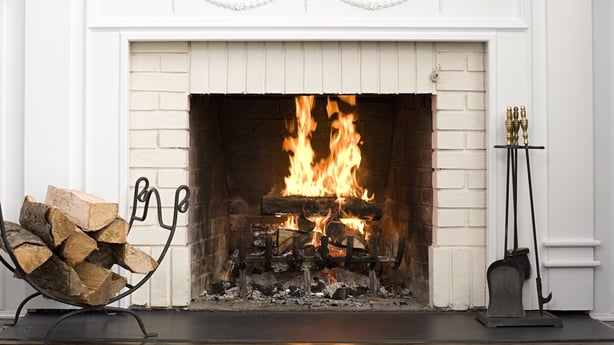 Dr Micheál Lehane, Director of the EPA's Office of Radiation Protection & Environmental Monitoring, said: "As we now start to travel more we must not lose sight of the obvious link between our journey choices and levels of traffic derived air pollutants.
"Pollutants from traffic have a negative impact on people's health and our actions, as individuals, do impact the air we breathe.
EPA Programme Manager Patrick Byrne said 2020 "very definitely wasn't a usual year" and reduced traffic as a result of the pandemic resulted in a reduction of up to 50% in nitrogen dioxide levels in urban areas.
Speaking on RTÉ's Morning Ireland, he said the difference in air quality was noticeable but acknowledged that this scenario is not sustainable.
Mr Byrne also said that levels of particulate matter (matter that goes out of the chimney when solid fuels are burnt) in Ireland are compliant with EU legislation but above WHO recommendations.
"Ireland still has issues with poor air quality due to the burning of solid fuel in our villages, towns and smaller cities.
"Ireland is above WHO air quality guideline values at many locations and it is imperative that we each, as individuals, make cleaner air choices when deciding how to heat our homes, as this can improve our local air quality and have associated health benefits," he said
The Government has announced that new regulations on the use of solid fuels will come into force in 2022.
All coal products sold will be required to be low-smoke and all wood sold for immediate use must have a moisture content of 25% or less.
The EPA described this as a positive step for air quality, which will need to be supported by clear communications to ensure public engagement and the best outcome for air quality and health.