US climate envoy John Kerry is visiting China for what Beijing said would be a four-day trip, as the two countries seek cooperation over the environment despite acrimony on other fronts.
In the first trip to China by a Biden administration official, the former secretary of state will be in Shanghai before travelling onto the South Korean capital Seoul.
His trip comes in preparation for President Joe Biden's virtual climate summit next week, to which the US leader has invited both Chinese President Xi Jinping and Russian President Vladimir Putin.
Beijing, which has so far not committed to Mr Xi's presence at the summit, said Mr Kerry would arrive today and stay until Saturday "at the invitation of China."
Foreign ministry spokesman Zhao Lijian said that during the trip Mr Kerry will meet with China's climate envoy Xie Zhenhua and "exchange views on Sino-US cooperation on climate change", giving no other details.
Mr Kerry's trip comes despite a testy initial meeting last month in Alaska between top Biden officials and their Chinese counterparts.
The two sides clashed over accusations that China is violating promises of freedoms to Hong Kong and carrying out genocide against Uyghurs and other mostly Muslim minorities in the northwestern Xinjiang region.
The United States is hoping to find areas of common ground despite the high political tensions.
Mr Kerry told CNN that although Washington and Beijing had "big disagreements ... climate has to stand alone."
Mr Biden has made climate a top priority, turning the page from his predecessor Donald Trump, who was closely aligned with the fossil fuel industry.
The US president has rejoined the 2015 Paris accord, which Mr Kerry negotiated as secretary of state and committed nations to take action to keep temperature rises at no more than two degrees Celsius (3.6 Fahrenheit) above pre-industrial levels.
With the world badly off track to meeting the goal, President Biden hopes that next week's virtual summit will result in stronger pledges in advance of United Nations-led climate talks in Glasgow at the end of the year.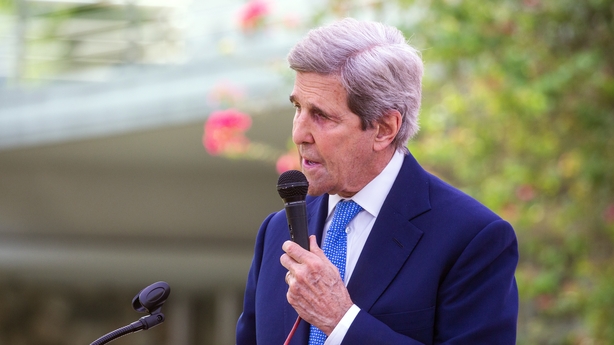 Mr Kerry - who has already travelled on his climate push to European allies, India, Bangladesh and the United Arab Emirates - noted that he worked closely with China on the Paris accord.
"We hope that China will come to the table and lead. President Xi has talked about leadership, about China's role in this. We want to work with China in doing this," he said in an interview with India Today.
No global solution is likely without both the US and China, the world's top two economies which together account for nearly half of the greenhouse gas emissions responsible for climate change.
China alone produces almost 30% of carbon emissions, far more than any country, after decades of rapid industrialization.
But President Xi has promised that China's emissions will peak by 2030, as part of a major push to clean up the environment.
President Biden is also hoping to carry out far-reaching efforts to transform the US economy toward green energy, and has identified climate as among narrow areas in which the US will seek to work with China.
---
China's environmental data: The world's biggest polluter in numbers
60% power provided by coal
Annual coal consumption nearly quadrupled between 1990 and 2015, and 60% of power in China is still provided by it.
President Xi Jinping has pledged the country's emissions will peak by 2030, and become carbon neutral by 2060. But critics warned this target is being undermined by factors like the pipeline of new coal plants or China's fuel-guzzling bitcoin mining operation which powers the global trade in cryptocurrencies.
China launched a carbon trading system in February aimed at driving down emissions - though critics have said it lacks teeth.
In 2020 China opened three-quarters of the world's newly funded coal power plants, according to CarbonBrief, and accounted for more than 80 percent of newly announced coal power projects.
Third of world's greenhouse gases
In 2019, China's greenhouse gas emissions were an estimated 13.92 billion tonnes, twice as much as the United States.
Between 2000 and 2018, its annual carbon emissions nearly tripled, and it now accounts for nearly a third of the world's total greenhouse gases linked to global warming.
20% non-fossil target
China's new five-year national development plan, announced last month, set a target of generating just 20% of energy from non-fossil fuels by 2025.
There were no specific targets for increasing wind, solar or hydro capacity.
314 million CO2 tonnes abroad
State-owned firms have also been investing billions in coal power abroad, which are not counted in domestic carbon neutral calculations.
Boston University's Global Development Policy Center has said fossil fuel power plants with Chinese overseas investment were leading to about 314 million tonnes of CO2 emissions per year.
This is about 3.5% of annual CO2 emissions from the global power sector outside China.
Leader in new wind power
China has pushed ahead in renewable energy, with the Global Wind Energy Council industry group noting 2020 was a record year for wind energy.
The drive in wind energy came before a cut-off in government subsidies.
Bloomberg New Energy Finance estimates new wind capacity commissioned in China last year, was "more than was commissioned by the entire world in 2019" in the onshore market.
Largest producer of hydropower
China is the largest producer of hydroelectricity globally and accounted for over half of worldwide growth, according to the International Hydropower Association.
China installed 13.23 gigawatts in fresh hydropower last year, and 48.2 gigawatts in new solar power, according to the National Energy Administration in Beijing.
Based on its 2020 energy consumption, however, renewables such as hydropower, wind and solar energy still account for a minority of China's power generated.