Climate change and the severe storms of recent years have served to highlight the issue of coastal erosion in Ireland, particularly along the west coast.
However, for local communities in areas like Inishowen in north Donegal, coastal erosion has long been a worry, as it eats away at valuable local amenities like beaches and golf courses.
In the Ballyliffin and Malin areas of the Inishowen peninsula, there have been ongoing campaigns calling for action to protect the coastline.
Particular concerns in Ballyliffin are the links golf course, which gained international attention when it hosted the Irish Open in 2018, and a 3km walkway along its perimeter on Pollan Strand.
Local campaigner Des Kemmy said thousands of people used the walkway but 40 to 50 metres have been eroded at the beach and the pathway is now gone.
A number of holes on the golf course are threatened and he believes it will only take a couple of more storms to encroach onto the course.
Donegal County Council commissioned a report in 2016 on five sites along the western Inishowen coastline.
The report by RPS consultant engineers recommends an ongoing shoreline monitoring programme, which the council said is progressing to tender.
It recommends a policy of "no active intervention" at the sites but suggests that Ballyliffin golf course be reconfigured.
We need your consent to load this rte-player contentWe use rte-player to manage extra content that can set cookies on your device and collect data about your activity. Please review their details and accept them to load the content.Manage Preferences
However, club manager John Farren said that is a complete non-runner.
He said the course could lose 50 metres over 70 years and if it is reconfigured then it is gone and it is vital to hold the line now and protect the course for future generations.
Concern for future generations is strong in the area of Five Fingers Strand near Malin where Desmond Glackin is involved in the "Save the Dunes" campaign.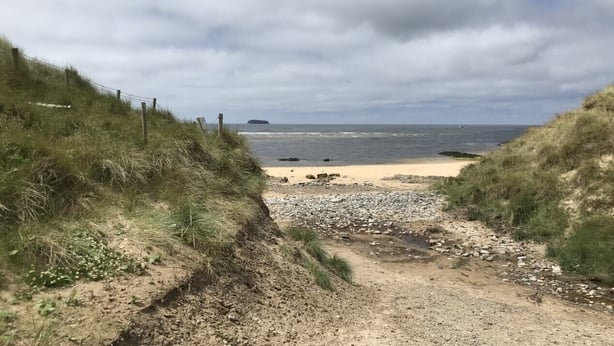 He said up to 100m of dunes have been lost along with a car park and part of an access road and now the historic St Mary's Church is threatened by erosion.
Mr Glackin said he has suggested solutions that would be in keeping with the beauty of the area but has not succeeded in getting anything done by the powers that be. For him, failing to protect this beautiful beach and the church would be a disgrace.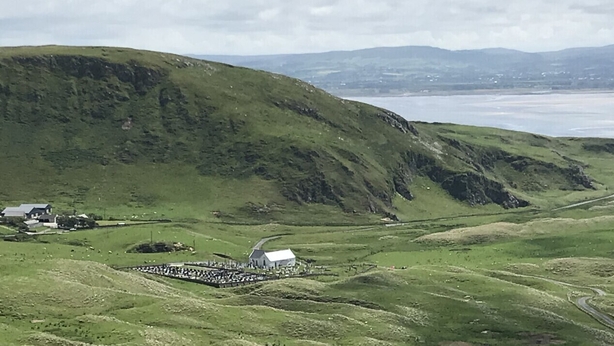 Mr Kemmy said local people in Ballyliffin are prepared to do the work themselves to restore the pathway at Pollan Strand but they cannot get permission.
The golf club too is prepared to raise funds and use the natural resources on the shore to protect the course, but also cannot get permission.
Local Fianna Fáil councillor Martin McDermott said the problem is that responsibility for coastal erosion falls between too many stools including local authorities, government departments, the Office of Public Works and the National Parks and Wildlife Service.
All have a role to play, but none has overall responsibility and it is local communities and their vital amenities and tourism which suffers as a result, he said.
Mr Farren said it is time one body took responsibility and was enabled to give "a yae or nae" to the various coastal erosion problems around Ireland and not just in Inishowen.