A very rare find of a common toad was made last week in south Co Dublin after an appeal called the "toad in the hole" campaign.
Common toads are not native to Ireland but following reports of sightings the National Parks and Wildlife Service and the Herpetoligical Society of Ireland asked people to look out for them.
One was captured in Stepaside in Dublin.
He has been given the name Trevor and minding him is Rob Gandola - Senior Science Officer with the HSI.
Speaking to RTÉ's Morning Ireland, Mr Gandola said Trevor was the first toad to be collected and submitted to them as part of the "toad in the hole" campaign.
Trevor is now going to become the 'face' of the campaign, according to Mr Gandola.
He said the project only works with the support of the local communities.
Mr Gandola said there are definitely more toads but they do not know how many or how far they have spread out along the foothills of the Dublin mountains.
The toads are not native to Ireland, and Mr Gandola said they want to find them to see if what effect if any, they are having on native wildlife populations.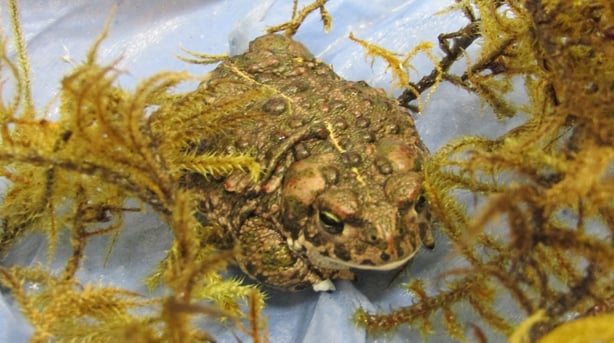 "We don't know if they're vectors of any of these big amphibian diseases that are rife within Britain and the rest of Europe," said Mr Gandola.
"So it is really important we get a handle on very basic things about population size, population structure, what they're eating and then down to whether they're disease carriers or not."
Mr Gandola said the Natterjack toad, found in south west Kerry and the Raven in Wexford, is the most endangered amphibian in Ireland.
He said the easiest way to distinguish the Natterjack from the Common toad is the Natterjacks have a yellow stripe running down the middle of their back.
He said there is only one way to find out what the common toad has been eating.
"We have to wait for him to take a big poo. That's as simple as it is.
"Toads like most reptiles tend to take large poos, and then as disgusting as it seems we can use that pellet that comes out and we can go through it. "