The project co-ordinator of an all-island plan which aims to address Ireland's declining bee population has said that simple cost-effective measures can be used to help address the problem.
"We can all play a role," says Dr Úna Fitzpatrick, who also works as Senior Ecologist at the National Biodiversity Data Centre. "It is pretty much a call to action".
In 2015, the All-Ireland Pollinator Plan was launched in an effort to address the reduction in the country's pollinator population.
The five-year plan is a blueprint for different sectors in society to take action in order to help address the problem. Speaking to RTÉ News, Dr Fitzpatrick said that there has been "overwhelming support" for it.
The plan has identified 81 different steps and is currently being supported by over 90 different organisations.
"The way we have run it, we have tried for each sector whether it's farming, local communities, councils, people in the garden, schools and so on... just identify really simple things they can do to help."
However, Dr Fitzpatrick said that there is room for improvement to combat the problem which has escalated in recent times.
This year's World Bee Day comes in the wake of a landmark United Nations report which gave a stark warning of the existing threat to the natural world due to human activity.
The report warned that one million animal and plant species face extinction, many within decades.
Ireland has 99 different types of bees, the majority of which are wild and live in the landscape. There is the honeybee, 21 different types of bumblebees and 77 different types of solitary bees.
According to Dr Fitzpatrick, one third of the wild bees are threatened with extinction.
"That's bad enough, and you would think that at least we have the common bees. But what we know is that those common ones are also not doing well.
"We know that of our common bumblebees, the abundance of them have declined by 14% just since 2012. So bees are in huge difficulties."
The problem stems from a loss of habitat due to the intensification of agriculture, greater urbanisation and pesticides, which are resulting in a lack of food for Ireland's bee population.
The decline is being noticed by beekeepers around the country.
President of the Federation of Irish Beekeepers' Associations Paul O'Brien says that the organisation's 3,500 members are observing a lack of habitat as the biggest threat for the bees.
"This has occurred because of the removal of hedgerows between fields that used to be dividing fields in times gone by. Lately with the increase in the dairy industry and the farming tillage area, the grass margins within their own fields are being removed to make continuously large fields for heavier plant machinery.
"This removal of the hedgerows is very destructive not only to the bees, but to all the pollinators included and the birds.
"A lot of beekeepers are in areas now where all of their surroundings is grass land, and they cannot keep bees anymore," Mr O'Brien said.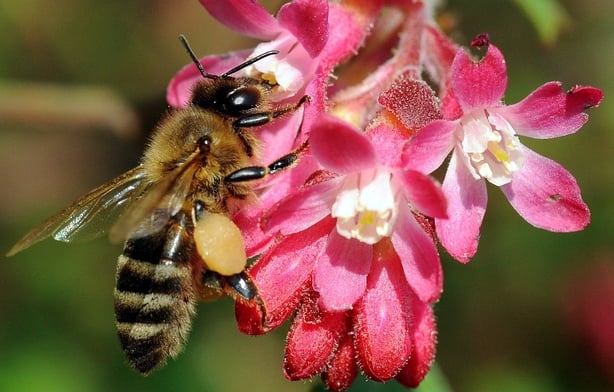 Apart from the removal of hedgerows, constant maintenance of gardens and parks are also seen as contributing to the problem.
Countryside Management Specialist with Teagasc Catherine Keena said she believes there is a huge disconnect between people wanting Ireland's bee population to survive, and knowing that in order to do so, wild flowers are needed.
While maintenance is important and necessary, she says, wild flowers do not have to be cleaned out completely.
"Our message would be think before you tidy when it comes to habitats," Ms Keena says, "I'm talking about simple places like margins alongside hedges and roads.
"Keeping lawns clean means that there are no flowers growing there. Some people would call them weeds, the bee doesn't mind a weed ... it is a flower with pollen and nectar as far as the bee is concerned."
This is echoed by Dr Fitzpatrick, who says bees need food, shelter and safety.
"So anyone who has any responsibility for any piece of land, from the biggest farm to the smallest window box, we can all play a role in helping bees.
"So it's about looking at your land, your garden, your school, your park whatever it happens to be and ask 'Could I plant things in there? Could I cut the grass less often?'"
Changing the mowing regime in a garden is the most cost-effective action that can be and has been taken on by people, she said.
"We're a bit obsessed in our gardens, parks and public lands, with shortening on grass. It looks like a golf course sometimes.
"That's a desert for bees. So really it's just about moving away from that, so it's okay to have dandelions in the grass, it's okay to let clover flower in perhaps May or June."
She says that other options include buying plants that are good sources of pollen and nectar.
An initiative has been launched by the Government to encourage forest owners to introduce beehives to their native woodlands in a bid to preserve and protect bees.
As well as that, 14,000 farmers have been provided with 25,000 sand habitats for bees under the Department of Agriculture's agri-environment scheme, GLAS. However, Dr Fitzpatrick said that more funding from the Government is needed to address the problem.
"The pollen plan is voluntary, not enforced - but really people are getting behind it - what it needs is just more funding," she says.
"The Department of Agriculture provides €15,000 each year to help develop resources, but that's all the funding it has.
"I mean we are in a really winning situation with it, we have so much interest out there. We just can't capitalise on that because we don't particularly have the human resources to actually do it."