One of the largest smokeless coal manufactures has said it is putting its investment plans on hold and considering its future plans in Ireland due to the lack of clarity by the Government about a nationwide smoky coal ban.
CPL Industries said it desperately needs clarity about the issue from the Government within the next ten days in order to prepare for next autumn.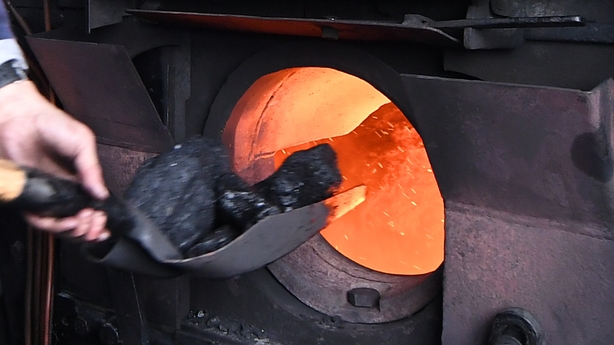 Chief Executive Tim Minnet said the company invested €20m in building a smokeless coal factory in Foynes in Co Limerick when the then minister for the environment announced in 2015 that the smokeless coal ban would be made nationwide from this autumn.
Four other family businesses had also invested and built other factories.
However, he said that he has never felt as frustrated in his entire business life at the lack of information from Government and the policy vacuum in relation to the future of the smokeless coal ban.
He said that he needs clarity from current Minister for the Environment Richard Bruton about the decision so that he can know how much ingredients he has to order to satisfy the demand for smokeless fuel for next autumn.
One of the largest manufacturers of smokeless coal says it's putting investment plans on hold and considering its future plans in Ireland, due to the lack of clarity from the Government about a nationwide smoky coal ban pic.twitter.com/NabeSa0oRO

— RTÉ News (@rtenews) March 21, 2019
Former Minister for Environment, Alan Kelly, said he cannot understand why the Government has not implemented the nationwide ban on smoky first announced when he was minister in 2015.
The former minister, who is now deputy leader of the Labour Party, said he believed the ban would have been implemented long ago and that thousands of lives would have been saved as a result.
He said it is quite frightening that the European Environment Agency published a report this week highlighting its own understanding that Ireland's nationwide ban on smoky coal had been fully implemented last autumn when in fact it has not been implemented at all.
Mr Kelly called the situation scandalous and unacceptable, not just for the factories who made investments in good faith on the back of previous government announcements but also for people all around the country whose health is being damaged by air pollution on a daily basis.
The World Health Organization has described air pollution as the single biggest environmental risk we face.
In Ireland, the Environmental Protection Agency says pollution is responsible for more than four premature deaths per day and that particulate pollution from coal is the main cause.
It is now over 1,250 days since a nationwide ban on bituminous coal was first announced. 
Currently the sale of smoky coal is banned in 26 towns and cities around the country.
The EPA found air quality in other locations including towns such as Enniscorthy, Killarney and Birr to be as bad as Beijing during the evening on many winter days.
For example, particulate pollution in Enniscorthy exceeded EU safe limits on six occasions during the first six weeks of this year. That's an average of once per week when it was simply was not safe for anyone to breathe the outside air.
Ireland has a mandatory EU target to reduce its level of very small particle air pollution (PM 2.5) by 10% by 2020.
So far, however, little or no progress has been made in relation to that target in small towns and villages around the country.
We need your consent to load this rte-player contentWe use rte-player to manage extra content that can set cookies on your device and collect data about your activity. Please review their details and accept them to load the content.Manage Preferences