The rise in wet wipes found on Irish beaches is one of the striking trends reported by volunteers participating in the 2018 Coastwatch Survey, which concludes this week.
The annual "eco-audit" of the coast involves more than 700 volunteers who survey more than 500 sites.
Coastwatch says many volunteers have reported "long ropes" of wet wipes ending up on coastlines.
It says people are still flushing wipes, which contain plastic, into lavatories, instead of simply putting them in the bin.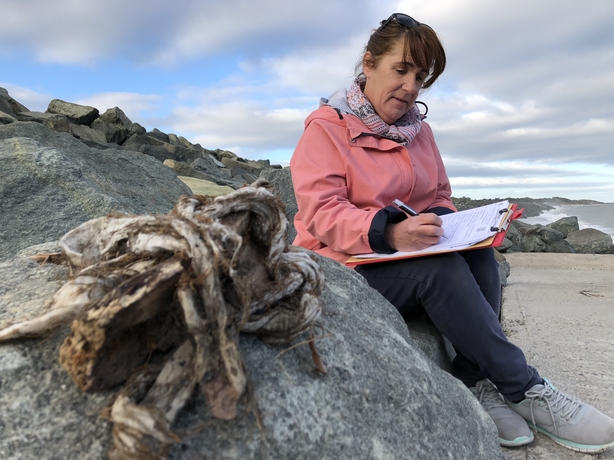 This means wipes are clogging up sewers and ultimately damaging the marine environment.
Lynda Shealy, a Coastwatch volunteer in Arklow, said: "Wet wipes are just in abundance. Scattered on all the beaches and inbetween all the rocks. It is depressing to see. We really need to think about the damage being done for future generations."
Coastwatch says "mushrooming sales" of a "bewildering range" of non-biodegradable wet wipes has created a serious problem.
Wet wipes are becoming an increasingly dirty problem on Irish shores, according to survey pic.twitter.com/kkYfnBFdeO

— RTÉ News (@rtenews) October 15, 2018
"Three things need to happen. An awareness campaign, better labelling and an eco-tax on wipes," said Coastwatch Coordinator, Karin Dubsky.
"We need an awareness campaign so that people understand why wipes are a problem and that they should not be flushing them away. We need better labelling to reinforce that message. And we need an eco-tax to really cause a shift in behaviour," Ms Dubsky added.
Earlier this year it was reported that the UK government was planning to "ban" wet wipes.
The Department for Environment, Food & Rural Affairs (Defra) subsequently clarified the position in a statement which said: "Our focus for wet wipes is to work with manufacturers and water companies to develop a product that does not contain plastic and can be safely flushed. We are also continuing to work with industry to make sure labelling on the packaging of these products is clear and people know how to dispose of them properly."
 
New EU rules, adopted by the European Parliament's environment committee on 10 October, tackle lost fishing gear and the ten single-use plastic products most widely found on European shores. 
Among a range of measures proposed are labelling requirements for wet wipes to alert users to their correct disposal.
Meanwhile, later this week Irish Water and Clean Coasts will launch their annual Think Before You Flush campaign, partnering with communities across the country to raise awareness and provide advice.
We need your consent to load this rte-player contentWe use rte-player to manage extra content that can set cookies on your device and collect data about your activity. Please review their details and accept them to load the content.Manage Preferences