Ireland will not meet its greenhouse gas emissions targets for 2020 with the current range of policy measures in place, according to the Environmental Protection Agency.
It said the greenhouse gases emitted by Ireland's agriculture, transport, residential, commercial, industrial and waste sectors are running far too high as the economy continues to recover.
The EPA also said that Ireland is now on course to miss its legally binding emissions reductions targets by a substantial amount.
Its projections suggest that Ireland will exceed its 2020 carbon budget by 12 to 14 million tonnes of carbon. This is despite Ireland saving 10 million tonnes of carbon emissions between 2013 and 2015 as a result of lower economic activity during the downturn. 
In 2009, Ireland was given a target to cut its emissions of global warming gases to 20 below the 2005 level.
The EPA said that with the policy measures currently in place, the country is only on course for a reduction of 4% to 6%.
Incorporated into that is significant further slippage over the past 12 months as the economy continues to recover - with more traffic, industrial activity and agricultural output pushing emissions up again.
Environmentalists are fearful that by missing the EU emissions target, Ireland could be forced to spend hundreds of millions of euro to buy carbon credits from other European countries in 2020 to compensate for the lack of climate policy action in the intervening period.
EPA Director General Laura Burke said the Government's policy measures to reduce greenhouse gas emissions are failing to meet Ireland's EU compliance obligations.
Speaking on RTÉ's News at One, Ms Burke said that during the recession emissions reduced but as soon as the economy took off again there has been a "significant increase" in emissions.
In the non-emissions sector, she said the two biggest areas of concern would be transport and agriculture.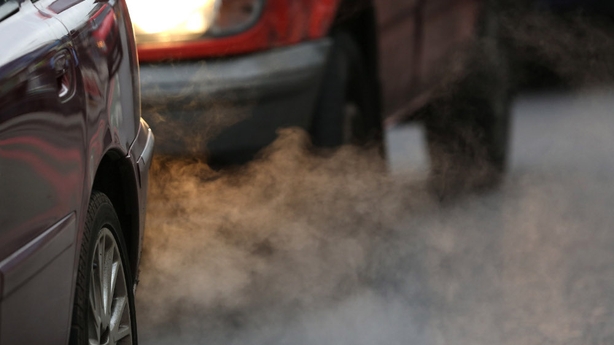 She said people need to be given options. "Cycling initiatives are great options and then support people to move away from fossil cars".
She said the goal for the agriculture sector is to be carbon neutral by 2050 but a lot of work needs to be done to achieve this.
The EPA also said there is a need for new innovative measures to meet the challenges that Ireland faces in transitioning to a low carbon economy.
Minister for the Environment Denis Naughten said that the EPA's projections paint a stark picture of the challenge facing Ireland to reduce its greenhouse gas emissions.
He said the projections indicate a deteriorating position and further reinforce the difficult decisions ahead of us as we try to rescue our emissions out to 2030.
He said that the lack of progress to 2020 partly reflects our reduced investment capacity over the period of the economic downturn.
Minister Naughten said it is clear that there are no easy options to reduce Ireland's greenhouse emissions on the scale required in the coming decades and that the options will be complex and often expensive to implement.
However, he said that many of the measures required will have a range of environmental, economic and other benefits and will help develop a more sustainable economic framework for Ireland in the decades to come.
Minister for Agriculture Michael Creed said the agricultural sector is the most carbon efficient producer of dairy "on the planet" on the beef side.
He said it does not come as a surprise to anyone that Ireland is going to miss the EPA targets.
He described the targets on the agricultural sector as "onerous" and the argument that we should all be vegetarian as "rather facile".
Minister Creed said the department was committed to making Irish agriculture the most carbon efficient on the planet and said "we are there" in terms of dairy but more will be done, adding that "we are on a journey" in terms of beef production.
The Chairperson of Friends of the Earth has it is appalling that Ireland is one of only two countries that will not make their 2020 targets.
Speaking on RTÉ's Six One News, Dr Cara Augustenborg said that two years ago the EPA reported that Ireland would fall short of its EU and climate reduction targets by 50% and the announcement indicates that the situation is far worse.
She said the recession helped reduce emissions because of a decline in economic activity having an affect on sectors such as transport, but because Ireland failed to address its obligations this has now reversed as economic has increased again.
Dr Augustenborg said that to reach its targets, Ireland would have to reduce emissions by 5% per year.
She said Ireland is missing out on the 'rooftop revolution' that is taking place across the world. She said every other country is putting solar panels on rooftops but there is no system to purchase solar energy from providers.