Taoiseach Leo Varadkar has said he understands the "very clear message" from the electorate that they want the Government to "do more on climate action".
Speaking at the Citywest count centre in Dublin this evening, the Taoiseach said tackling climate change would require "lots of changes" but voters had made it clear "they are up for that...they want us to do it".
He added: "We are acting on climate, but they want us to act faster - we have got that message."
Tallies have echoed the findings of a RTÉ TG4 Exit poll which indicate a surge in support for the Green Party.
By 11pm this evening, 83 of 949 local election seats had been filled around the country.
Fine Gael and Fianna Fáil's vote appears to have held up while Sinn Féin and Labour seem likely to see their vote decrease, according to the exit poll.
Mr Varadkar described the outcome of the European elections for Fine Geal as "very good" saying: "We have won the popular vote, and our vote is up in all three constituencies."
However regarding the Local Elections, the Taoiseach conceded: "It does not look as if we are going to make the gains that we hoped for a few months ago."
This weekend 949 council seats will be filled across 166 local electoral areas.
The sorting of votes in the European and Local Elections, as well as the divorce referendum, got under way at 9am.
Six hours after the ballot boxes were opened Thomas Welby, an Independent candidate in Conamara, became the first councillor to be elected in the country.
He was followed by Fianna Fáil's Michael O'Shea elected to Kerry County Council. Also in Kerry, Jackie Healy-Rae, a son of Independent TD Michael and grandson of the late Jackie, has been elected.
Results from several electoral areas are expected this evening while a result in the referendum on easing divorce restrictions is expected in late tonight.
By 11pm this evening, 82% of the electorate had voted in favour of easing divorce restrictions with 25 of 31 constituencies counted.
The counting of votes in the European Election is expected to get under way tomorrow morning but no European election results can be declared until after 10pm tomorrow night.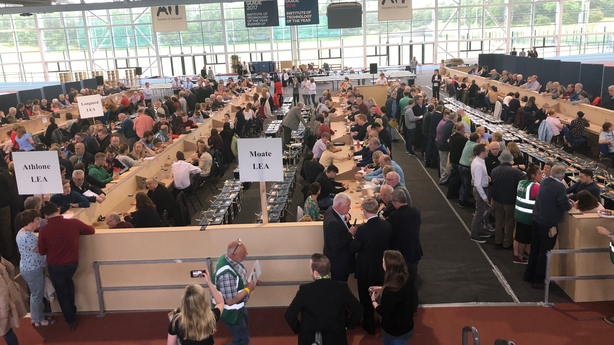 Green wave happening all over the world, says Ryan
Green Party leader Eamon Ryan said there is a green wave happening all over the world and he is really pleased that wave has arrived in Ireland.
He said that if the Irish Green Party return three MEPs, the Green Party group in Europe could hold the balance of power which would be a huge story internationally.
"We knew there was going to be a Green vote and it's everywhere; it's rural Ireland, urban Ireland, younger Ireland, older Ireland," he said.
The Green Party looks poised to take a seat in the Dublin Euro constituency and is in the running for seats in Midlands-NorthWest and Ireland South.
Last night's RTE/TG4 RED C exit poll predicted the Green Party's Saoirse McHugh at 12% of the vote, ahead of sitting MEP Luke Ming Flanagan who is placed at 10%.
First-time election candidate Ms McHugh, the Green candidate in Midlands-North West, said "top-down change" on environmental and climate issues is needed.
The RED C poll put Fine Gael and Fianna Fáil neck-and-neck on 23% support each with Sinn Féin slightly down.
The Fianna Fáil leader said the party looks likely to gain additional seats across the country in the Local Elections.
Míchéal Martin said that Fianna Fáil is also "on track" to remain as the largest political party in local government.
In the European Elections, Mr Martin said the party "will win a seat" in the Ireland South region and "could possibly" win a second seat "if the ball bounces in the right direction".
He said Fianna Fáil is "very competitive" in Dublin, but he said the party will have to evaluate its performance in the Midlands North-West area, after its two candidates polled poorly in the exit polls.
---
Read more:
Live: Result due in Divorce Referendum as Yes set to win
Elections 2019: The story so far
Green wave of thinking has reached Ireland, says Ryan
Election results where you are
---
Sinn Féin leader Mary Lou McDonald said she is "disappointed" with her party's show during the local elections and admitted it is facing losses.
Ms McDonald said Sinn Féin had got a surge in the local elections five years ago and won an extra 100 seats.
But she said it had been the turn of the Green Party this time and Sinn Féin was not going to be able to fufill its ambition of holding all its extra seats.
Ms McDonald said other factors had been the number of other left-wing parties.
But she said left-wing parties seem not to have capitalised from anger with the housing crisis.
She said there had also been a public disengagement from politics.
Tallies suggest Labour has been hampered by a strong showing of the Social Democrats in Dublin. That party could be in contention to win up to 20 seats in this, its first local elections.
The RTÉ TG4 Exit poll has already re-ignited calls for the Labour Party to start a conversation about amalgamating their party with the Social Democrats and the Green Party.
Speaking to RTÉ's Claire Byrne, Labour Senator Aodhán Ó Ríordáin asked 'What's the point in having three centre-left parties' competing with each other?"
He said leadership at the top of the parties is preventing this discussion from happening, though he did not call for Labour leader Brendan Howlin to step down given what is looking like a poor performance in these elections.
He said Mr Howlin has "steadied the ship" and he would rather see a general election ahead of a leadership change in the Labour Party.
Additional reporting: Paul Cunningham