Sinn Féin's surge to become the biggest political force in Ireland has changed the shape of the Dáil.
But apart from the 37 seats the party won for itself, its vote share and huge surpluses across the country have had a big bearing on other seats.
In Dublin, it has helped left wing candidates such as Paul Murphy, as well as two new Social Democrat TDs, over the line.
Here is a flavour of how the party changed constituencies in more way than one.
Dublin South West
After the first count, the Solidarity People Before Profit TD Paul Murphy had 4,477 first preferences, behind the Green Party's Francis Noel Duffy.
But Rise by name and rise by nature, he shot up on the second count after picking up 3,444 transfers from Sinn Féin's Seán Crowe.
Mr Crowe had a surplus of almost 9,000 votes after being elected on the first count and almost 40% of them went to Mr Murphy.
Dublin Bay North
Sinn Féin's Denise Mitchell came in with a phenomenal 21,334 first preference votes here. That gave her almost two quotas and 9,400 votes to be distributed.
Like in Dublin Central, this was to the benefit of the Social Democrats. Cian O'Callaghan had 6,229 votes on the first count and at that point appeared to be contending with the Green Party's David Healy for the final seat.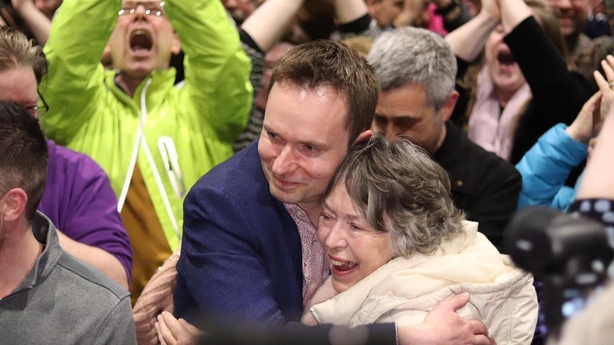 Sinn Féin surpluses did not go predominantly to him, but he did gain 1,191, helping him to overtake Seán Haughey of Fianna Fáil and Mr Healy on the second count.
A greater share of the Sinn Féin vote went to the Solidarity People Before Profit candidates Bernard Mulvaney and Michael O'Brien, as well as the Independent John Lyons.
But as they were eliminated they helped push Mr O'Callaghan up the pecking order.
There was a similar situation in Dublin Central for Gary Gannon, making it a day of sweet success for the Social Democrats.
Laois-Offaly
This two-county constituency was previously split in two and on both sides Barry Cowen or Seán Fleming have enjoyed huge vote shares.
In 2016, Cowen got 28% of first preferences in Offaly, with Fleming getting 32%, one of the highest vote shares in the country.
The expectation was that together they could bring in a running mate this time around, giving Fianna Fáil three seats in this five-seater. Their main target in doing so was the second Fine Gael seat held by Marcella Corcoran Kennedy.
But Sinn Féin's Brian Stanley took everyone by surprise gobbling up first preferences in both counties, coming in with 16,600 number one votes and 5,000 to spare, upsetting the plans of both Fine Gael and Fianna Fáil in the process.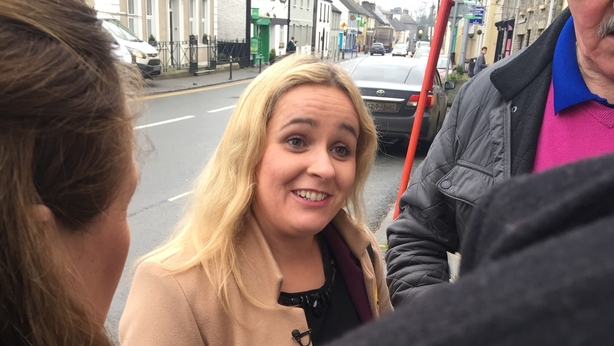 His surpluses did not go overwhelmingly to one candidate, but Independent Carol Nolan, who resigned from Sinn Féin in 2018 because of the party's stance on abortion, picked up 740 of them.
That brought her well clear of both Ms Corcoran Kennedy and Fianna Fáil's third candidate Peter Ormond. By the fifth count, she was 2,140 clear of Ms Corcoran Kennedy a margin that was too great to overtake.
Her victory was at the expense of this and Fianna Fáil's much coveted third seat.
Donegal
There was a double victory for Sinn Féin in Donegal with both Pearse Doherty and Pádraig Mac Lochlainn elected on the first count.
But just because they ran two candidates, it does not mean their surpluses were in short supply. Doherty got 21,044 first preferences leaving him with a surplus of 8,153, while his running mate had a more modest 982 to spare.
Fianna Fáil's Pat The Cope Gallagher, who at that point was in fourth place behind his running mate Charlie McConalogue, did well on these transfers benefiting by 1,192.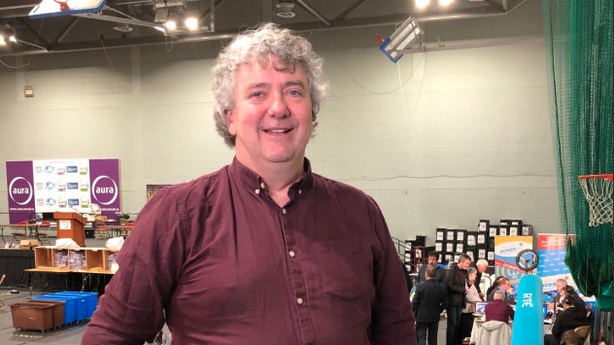 But the big beneficiary was undoubtedly Independent Thomas Pringle, who got 2,789 transfers from Mr Doherty and 251 from Mr Mac Lochlainn.
This moved him up the table and closer to the Fianna Fáil two. He eventually leapfrogged Mr Gallagher on the fifth count and Mr MacConalogue on the sixth count.
The elimination of independents helped him move up, but he would not have been elected without the help of the Sinn Féin transfers.
So, while Mr Gallagher got almost 2,000 more first preference votes than Mr Pringle, the latter beat him to a seat.
Carlow-Kilkenny
The effect of Sinn Féin surpluses here is less obvious, but a fascinating example of how transfers would ultimately come to cost Fianna Fáil.
Kathleen Funchion, who had been written off earlier in the campaign, came home with 17,493 first preference votes leaving her with a surplus of 5,219.
Around 562 went to the Green Party's Malcolm Noonan, who was still behind Fianna Fáil's Bobby Aylward and Fine Gael's Pat Deering at that point, but helped him to inch up a bit closer.
A far bigger share of the Sinn Féin surplus - 1,792 transfers - went to Solidarity PBP candidate, Adrienne Wallace.
That was not enough to get her a seat. But it meant that when she was eliminated on the seventh count, her transfers were enough to allow Mr Noonan to overtake Mr Aylward to take the fifth and final seat.
Mr Aylward had beaten Mr Noonan by some 2,500 votes on the first count, but in the end transfers were king.