While the General Election has been making waves at home, the changing landscape in Irish politics has also been attracting attention around the world with newspapers and TV stations reporting on Sinn Féin's historic rise.
Many referenced Sinn Féin's left policies but most also mentioned the party's past links to the IRA.
---
In the UK, the BBC said, "Result marks seismic break for two-party system". The broadcaster went on to say: "During the campaign, Fianna Fáil and Fine Gael - which are both broadly in the centre of the political spectrum - ruled out going into government with Sinn Féin.
"They cited Sinn Féin's past links to IRA violence, and also strongly objected to its policies on law and order, and taxation.
"But that did not halt the rapid increase in Sinn Féin's support as the canvassing, debating and leafleting progressed."
The Guardian newspaper went with "Earthquake: Sinn Féin's electoral earthquake".
The paper went on to say that Sinn Féin will try to form a government after a "stunning general election result".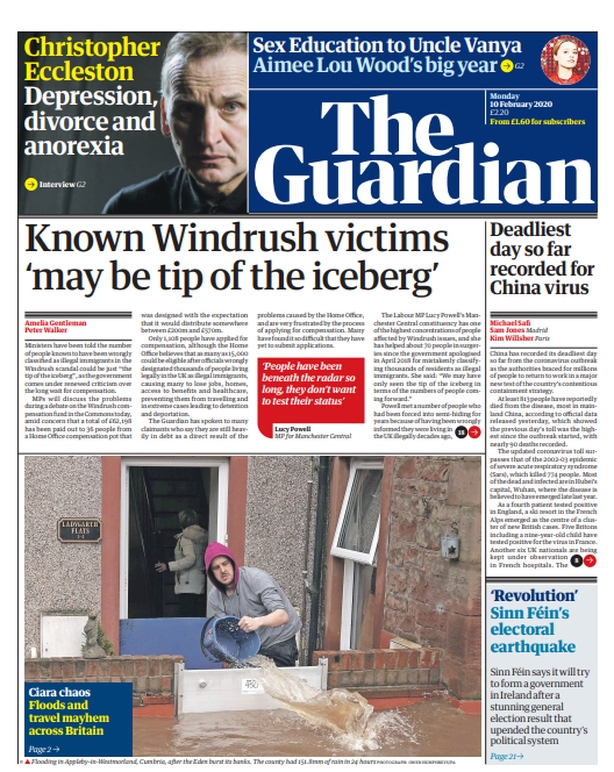 ---
In the US, The Washington Post headlined its report with: "Ireland's left-wing nationalist Sinn Féin party surges in historic but inconclusive election".
The Post, one of America's leading dailies, said: "The center-right Fine Gael party of Prime Minister Leo Varadkar suffered humiliating losses. In an embarrassing turn of events, Varadkar was outperformed by the left-wing nationalists in his own constituency, although he kept his seat under Irish electoral rules.
"'This is no longer a two-party system,' said Mary Lou McDonald, leader of Sinn Fein, formerly the political wing of the Irish Republican Army."
The New York Times said, 'party with old IRA ties soars in election'. 
As with The Washington Post, the NYT report also referenced Sinn Féin's past saying: "Sinn Fein, a leftist party long ostracized from Irish politics over its ties to sectarian violence, won the popular vote and seized its largest-ever share of parliamentary seats in the country's national elections this weekend."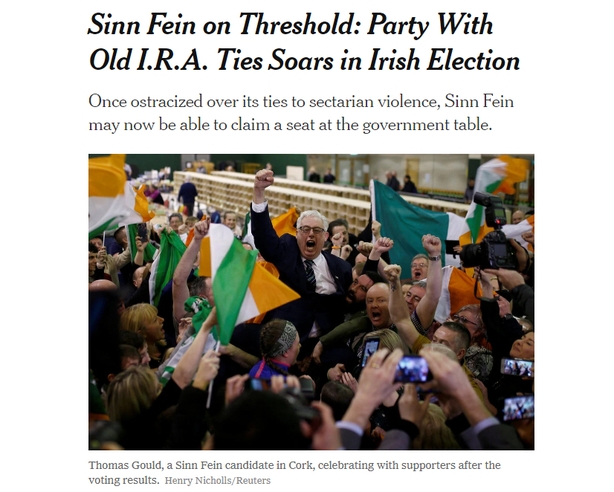 ---
In France, the election made it onto the front page of Le Monde newspaper with a 'historic breakthrough' for nationalists.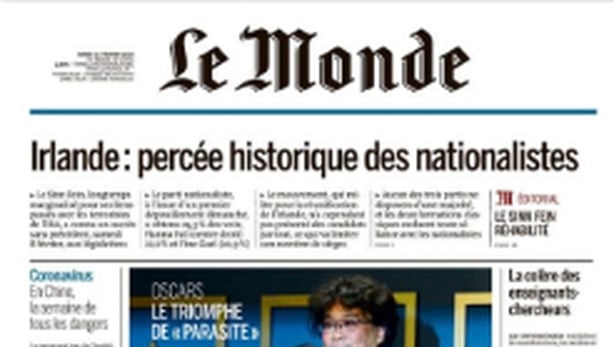 ---
In Germany, the national broadcaster Deutsche Welle reported: "IRA-linked party at historic high in exit poll".
It said: "The Republic of Ireland's left-wing republican party Sinn Fein apparently topped the polls in the country's general election, winning 24.5% of the vote and beating centrist parties.
"In a surprise outcome, Sinn Fein had 29 seats after the first day of counting Sunday. The result marked Sinn Fein's best performance ever in an Irish general election. 
"The victory could see the former political wing of the Irish Republican Army (IRA) form a government in the Republic."