People living on islands off the coasts of Galway, Mayo and Donegal are casting their votes in the General Election today.
It had been expected that the European and local elections held in May of last year would be the final time that islanders would vote ahead of the rest of the country.
However, legislation to allow islanders vote on the same day as other voters, despite having gone through second stage in the Dáil, had not been passed by the time the General Election was called.
Traditionally islanders voted ahead of the rest of the country to ensure that bad weather did not hamper the return of ballot boxes to the mainland in time for the count.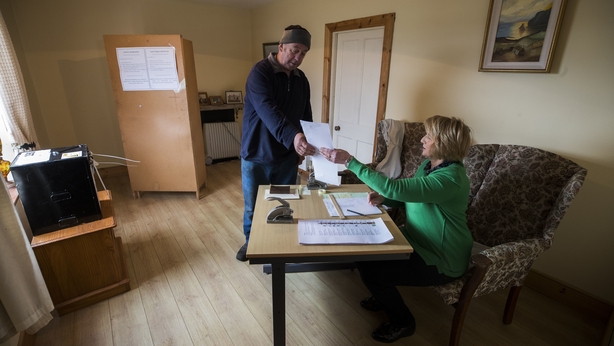 However, islanders argued that this put them at a disadvantage in terms of not having equal time to be fully informed and make up their minds on who to vote for.
This morning, ballot boxes were brought by ferry and helicopter to 12 offshore islands with a total electorate of more than 2,100 people.
Four Galway islands account for over 1,200 voters, while in Donegal around 750 people are registered to vote on five islands, including just four people on Inis Fraoigh.
Almost 200 people are registered to vote on three islands off the coast of Mayo with more than half of them registered on Clare Island.
Voting on four Donegal islands concluded at 3pm.
Two polling stations in Árainn Mhór - the largest of the islands - will continue until 7.30pm. Turnout was mixed across the Islands.
Of 29 votes on Gabhla Island, ten voted, leaving a turnout of 34.4%.
Turnout was just shy of 27% on Inis Bó Finne, where 17 of 63 people voted.
Turnout stood at over 41% on Toraigh island, while on the smallest island - Inis Fraoigh – only one vote was cast out of a possible four.
Polling there was between midday and 2pm.
---
Read more: Election 2020 stories
---
We need your consent to load this rte-player contentWe use rte-player to manage extra content that can set cookies on your device and collect data about your activity. Please review their details and accept them to load the content.Manage Preferences