In just over one week, people will cast their vote for the General Election - here's everything you need to know.
Voters will walk through the doors of schools and community centres across the country on Saturday 8 February to cast their vote in the General Election.
There are 516 candidates running in 39 constituencies.
The 33rd Dáil will have 160 seats, two more than the outgoing one, due to the increase in population since the last Dáil was formed in 2016.
Each constituency has a specific number of seats that need to be filled, with those seats making up the Dáil. A party needs to win 80 seats to achieve the majority.
---
Read more:
---
What's the lie of the land with each party as it stands?
Fine Gael goes into the campaign with 47 seats; Fianna Fáil has 45, excluding the Ceann Comhaire; Sinn Féin has 22 seats; Labour has seven seats; Solidarity People Before Profit has six seats; Independents have 22 seats; Independents for Change have one; the Greens has three; the Social Democrats has two and Aontú has one seat.
No party is expected to get an overall majority which means coalition talks to achieve that magic number of 80 are inevitable.
Forming a government after the election is likely to take some time. It took 70 days to form the government after the election in 2016.
There is a record number of 162 female candidates on the ticket in this election compared to 160 in 2016.
This means that at least one woman will run in every constituency across the country for the first time in history.
It is also the first time since 1918 that voting has been held on a Saturday.
Fine Gael leader Leo Varadkar said he wanted to take pressure off parents seeking to vote and to allow people who live away from their constituencies return home to cast their ballot.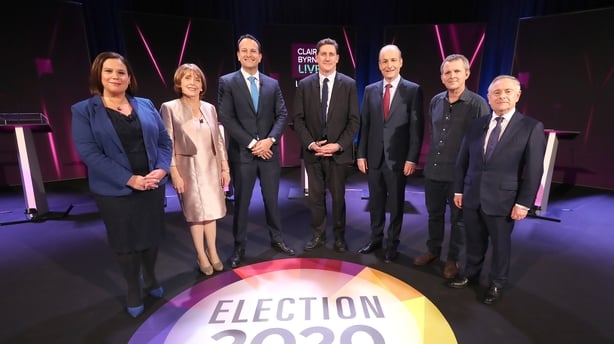 Voting system
Ireland uses an electoral system called proportional representation with a single transferable vote.
This sounds complex, but it can be broken down into simple terms.
The voter marks their ballot card in order of preference, which means writing one opposite their first choice, two beside their second favourite and so on.
If the candidate marked as the voters first choice is eliminated or elected without needing the vote, then the vote is transferred to the second candidate.
The transfer of votes between party candidates often plays an important part in getting candidates elected.
In 1959 and 1968 a referendum took place on a proposal to replace PR-STV system to one where voters vote for only one candidate, but the proposal was rejected on both occasions.
How do you cast your vote?
You will need to have registered to vote, meaning your name is on the register of electors.
Once a voter is on the register they receive their polling card which will include information about their nearest polling station.
Here's the tricky part, if you registered to vote after the Local and European Elections in May last year you will not be on the register of electors.
This is because the register is updated on 15 February every year seven days after the general election.
However, these voters will still appear on a draft electoral register and will be able to cast their ballot. 
Polling stations are open between 7am and 10pm on election day.
Voters will need to bring a form of photo ID with them to polling stations.