Fine Gael has published its General Election manifesto, pledging to increase current health funding by €5bn over next five years.
The manifesto promises to recruit 5,000 nurses and 3,840 primary care workers and to provide free GP care for under 18s.
On taxation, it pledges to increase the point at which a single person pays the higher rate of tax to €50,000 euro and €100,000 for a couple.
It said Fine Gael would expand the Help-to-Buy scheme to help more people to buy their first home.
The party said it would increase the State pension by €25 a week, over five years.
10 Key Points from the Fine Gael General Election manifesto
Speaking at the launch, Mr Varadkar said that although the economy "has never been stronger" and we "have a deal on Brexit" - it was not enough.
"Brexit is not done yet. It's only half-time. The next step is to negotiate a free trade agreement between the EU, including Ireland, and the United Kingdom that protects our jobs, our businesses, our rural and coastal communities, and our economy," he said.
"Progress on health and housing is gathering momentum. I meet people every day and I know the worry, frustration and concerns around the pace of progress in health and housing.
"Today we are laying out our plans to build on what has been done, with a particular focus on home ownership and universal healthcare.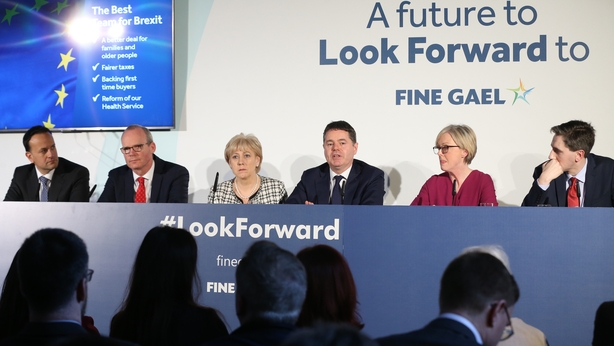 "An improving economy and the careful management of our public finances, along with the sensitive stewardship of the upcoming Brexit trade negotiations, will enable us to drive that momentum and provide more houses, more hospital beds, more nurses and gardaí, deliver climate action, and drive tax reform.
"We've been able to make good progress, but I know it's not enough. I want us to do much more. I want people to start feeling the growing strength of our economy in their pockets - I want people to see it in their payslips and in their towns and parishes.
"In this manifesto we set out our plan for fairer taxes - for future jobs and for rural Ireland - to put that right.
"On Saturday 8 February we are seeking a fresh mandate so we can continue to build a better future. A future we can all look forward to. We have the team. We have the track record. We have the plans," said Mr Varadkar.
Fine Gael is launching its manifesto for the 2020 General Election | #GE2020 live blog: https://t.co/LPkxDCjWzQ https://t.co/BofBxzHX2c

— RTÉ News (@rtenews) January 24, 2020
Some of the key commitments in the manifesto include:
A fairer tax package, increasing the point at which a single person pays the higher rate of tax to €50,000 and to €100,000 for a couple
Raising the USC income exemption threshold from €13,000 to €20,500
A plan to create 200,000 jobs right across the economy and in key public services - nurses, teachers, doctors and gardaí
The expansion of the help-to-buy scheme to help more people buy their first home
Increasing the State pension by €25 a week over the next five years