Fianna Fáil leader Micheál Martin has said if elected to government his party would seek to outlaw contracts that force people to retire at 65.
Speaking after an interview with RTÉ's This Week, Mr Martin said: "If on the one hand the State is saying the pension age should go to 67, then having people for two years in a limbo situation is not sustainable and acceptable."
He said the party would review moving retirement to 67 on the basis that there needs to be what he called a "level playing pitch".
He said compulsory retirement at 65 needed to change and he would look for "graduated retirement".
Fine Gael leader Leo Varadkar said leaving the State pension age below 67 would be "irresponsible" and "reforming makes sense".
Mr Varadkar said: "If pensions are going to be sustainable into the future, we will need to increase the pension age along with life expectancy."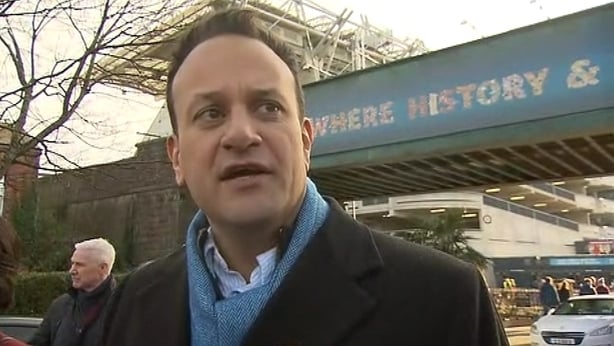 He said his party was still planning to press ahead with a policy to increase the pension age to 67. However, he admitted that there were some anomalies that need to be fixed.
Mr Varadkar said one of those anomalies relate to people who are contractually required to retire before the age of 66 or before the age of 67.
He said Fine Gael was proposing to introduce "a transition pension or an early retirement pension, like existed in the past, for those who are contractually required to retire earlier".
Fianna Fáil in Government would seek to outlaw contracts that force people to retire at 65 says @MichealMartinTD #GE2020 pic.twitter.com/bTI57ccCun

— Fran McNulty (@franmcnulty) January 19, 2020
Sinn Féin leader Mary Lou McDonald said her party would stick to its commitment to allow people to retire at 65.
In a statement this evening, she said: "Sinn Féin is standing up for 65 year olds who wish to retire.
"They are entitled to the respect and dignity of finishing work on a State pension, and Sinn Féin is the only party committed to bringing the pension age back to 65.
"That is what is fair, just and in line with the values of the vast majority of the Irish people."
Earlier, speaking on RTÉ's This Week radio prgramme, Mr Martin conceded that in power his party had reduced "taxation too much and increased public spending too much".
Speaking on RTÉ's This Week, Mr Martin said that the party had implemented two thirds of an economic recovery plan before leaving power, but then supported that plan in opposition.
He said: "Mistakes were made, but you learn from that."
Mr Martin accused Fine Gael of promising spending increases ahead of the election.
He said that Fine Gael had announced spending increases of €600m, which he said was "an attempt to soften up the electorate before a General Election".
Asked about the ability of his party to deal with Brexit, Mr Martin said "we have a strong diplomatic team" and it would "try and encourage Britain to go the sensitive route".
We need your consent to load this rte-player contentWe use rte-player to manage extra content that can set cookies on your device and collect data about your activity. Please review their details and accept them to load the content.Manage Preferences
Asked about appointing two members, Niall Collins and Timmy Dooley, who were removed from the Fianna Fáil front bench, Mr Martin said he would not be addressing who would be in any potential cabinet.
He said: "I'm not going to be ruling people in and out. I don't think that's fair."
Mr Martin confirmed Fianna Fáil would launch a savings scheme to help first time buyers. He said: "In our view it will not drive up the prices of houses."
The party leader said rental prices were impeding people's ability to save and "rents cannot be allowed continue to climb".
He said the savings scheme was one part of a broad ranging policy to be launched this week to address a range of issues in the housing sector.
---
Listen to the full This Week interview with Micheál Martin
We need your consent to load this rte-player contentWe use rte-player to manage extra content that can set cookies on your device and collect data about your activity. Please review their details and accept them to load the content.Manage Preferences
---
Reporting by Fran McNulty and Fergal O'Brien