"This week has been like watching stray dogs sniffing around one another, to check each other out." This was one wily observer's take on the antics at play, as efforts to form a coalition look set to take some time. Mícheál Lehane and Conor McMorrow of RTÉ's political staff assess how the intricate game will play out.
It was really Tuesday morning before Fine Gael ministers began to appreciate the full impact of the circumstances they now found themselves in. Conversations started, some of them in the vicinity of Leinster House. Immediately, two things became very clear.
One, the prospect of Fianna Fáil support for a Fine Gael-led minority government was not an appealing one. Senior party figures were adamant that they would reject what they termed a hostage situation. They said it was akin to being held over the barrel of a gun with Fianna Fáil capable of pulling the trigger whenever they chose.
When they worked out all their numbers, they could see a possible 80 votes backing a Fine Gael-led government but it would involve getting nearly all the Independents on board, plus the Greens and the Social Democrats.
This all meant that Independents were identified as the key to the party returning to power. So work got under way trying to make contact with as many as possible.
However at the same time, Fianna Fáil had already commenced this operation. What's more, that party was engaging with newly elected Independent TDs at constituency level. Essentially chats were taking place far, far away from Dublin. While they were informal they were nonetheless lengthy and comprehensive.
A meeting of some Independents took place in Kildare Street yesterday. This was chaired by Denis Naughten.
The Healy-Raes did not attend the Naughten meeting but they were in phone contact throughout the day.
Brothers Michael and Danny met with the Taoiseach on Friday afternoon. Michael said that in order to support a particular party there would have to be a pledge in place to create a "senior minister for rural affairs".
It is understood a number of the incoming Independent TDs favour abstaining from next Thursday's vote on who should become Taoiseach as "it's too early to show our hand".  
"Looking at the way the numbers have fallen since the election, a new Taoiseach will not be elected when the Dáil meets next week. A lot of us are going to abstain as there will be no benefit in showing our hand in this first vote," said one re-elected Independent.
He predicted that "Micheál Martin is actually in the best position to become the next Taoiseach". The incoming TD from outside Dublin said that neither the Taoiseach Enda Kenny, nor Mr Martin will have the numbers to be elected Taoiseach on Thursday.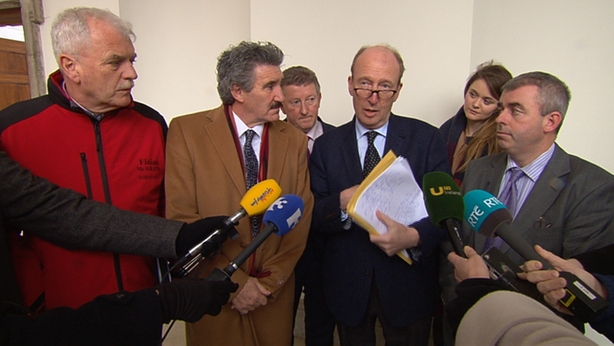 Mr Kenny will have to go to Áras an Uactharáin to tell the President that he has not got the numbers to re-elect him and he will assume the caretaker role.
A 'standalone Independent' - who is not part of any alliance or grouping of independents - said, "The real vote will be in April when the Dáil attempts to elect a Taoiseach for the second time.
"I think that the seven Labour TDs will support Enda Kenny next Thursday but after that they might abstain. It's possible that Micheál Martin will have 68 votes in the second vote in April and Enda Kenny will only have his own 50 Fine Gael TDs.
"Fine Gael could find itself in a position then where they either go back to the people and risk losing more seats or they allow Micheál Martin to become Taoiseach and they focus on rebuilding under a new leader for an election in two or three years' time."
"I think that Independents would be mad to support either Martin or Kenny next Thursday. Now is the time to look for reform of the Dáil and sit back and see what happens," added the 'standalone Independent'.
It is understood that another incoming Independent TD was personally in favour of supporting Enda Kenny but after consulting with his closest supporters, they were "almost all against supporting" the incumbent.
Both the Taoiseach and the Fianna Fáil leader have been ringing around Independent TDs in recent days canvassing their support and seeking face-to-face meetings. Members of the Independent Alliance met with the Taoiseach this morning and other Independents are meeting with Mr Kenny early next week.
While Thursday may not elect a Taoiseach, the stakes could not be higher for Mr Kenny. Should he finish with less votes than Mr Martin, his efforts to become the first Fine Gael Taoiseach to win successive terms will be all but over.
One seasoned observer of forming coalitions, former Taoiseach Bertie Ahern, said: "The winner of the battle on Thursday gets to take the driving seat in the drawn-out process that is to follow."
Incoming Independent TD in Mr Ahern's old Dublin Central stomping ground, Maureen O'Sullivan said it is too soon to be voting for the next Taoiseach, adding that more talking needs to happen.
In an uncertain world, it is pretty certain there is an awful lot more talk to come.